Hello guys !!!.
We all Steemit users know that STEEM, is the blockchain that powers this steemit platform. Steem is a Smart Media Token or SMT, which is a native digital asset on the Steem Chain itself. And the consensus used on the Steem Blockchain is 'Proof-of-Brain' where the reward system is based on the distribution of content created by users.
And of course, you already know it all. But what I want to discuss here is the relationship between STEEM, Metaverse and NFT. I think these three terms are closely related to each other.
Since Facebook Founder announced the company's renaming to Meta, in which they aim to make Facebook a distinct internet pioneer, Dan Mark says that the metaverse is the most advanced form of social technology.
I think, Before Facebook popularized Metaverse, STEEM was one of the blockchains that had driven the technology, right? even the steemit platform itself in my opinion is already running on WEB 0.3 which is where many people have been talking about recently.

But why is Steemit and his team at this time, not so popular among the Crypto Community and also the Technology community at this time?
I don't know the reason or what's going on behind this steem company, but I also know that STEEM supports everyone to be a contributor and also a developer, because STEEM is open source.
But, I hope the developers, and also the experts, to develop STEEM so that they can also follow the Metaverse Trends. It's not that I'm forcing it, but I really love this platform, I want there to be progress from this STEEM that can outperform other platforms,

And regarding NFT, where we know that NFT is currently an investment asset that has been developing recently.
Where an NFT is a digital asset that can be used as proof of asset ownership covering various fields such as artwork, video clips, music, games and so on.
Of course, Currently the steemit platform. its users upload a lot of content ranging from Daily Life Posts, Artwork, Photography, and also digital works that I often share.
Where every content posted on steemit, has its own Node, and also proves ownership of a content. and I think that steemit has also done the current NFT system, although it's different, I think STEEM has already created that system. I think it's interesting that STEEM is a blockchain haven for today's technology.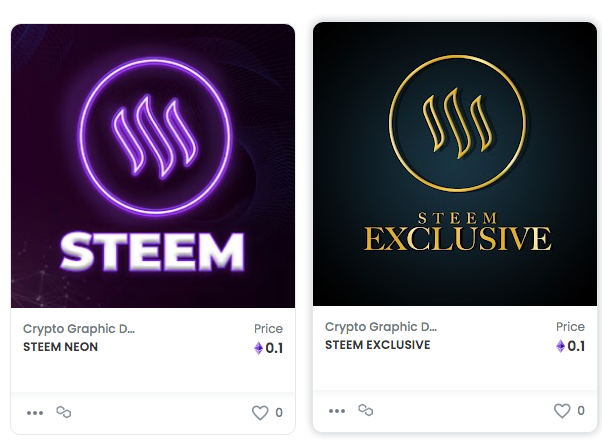 To see the NFT sata collection, you can open this LINK
I am very enthusiastic about this NFT, so because I am also a Graphic Designer, I am listing my work on the Opensea Platform. Yes, as you can see that I have listed 2 STEEM Logos that I designed as attractive as possible
Why Do I Need the STEEM Logo? Because in my opinion, Steemit should shine more and do a lot of development.
It's time, we follow the Metaverse Trend and also explore the NFT World, And Hopefully STEEMIT can be even better, more developed and can surpass all existing Blockchain technologies.
CC For All Developers and Also Steemit Team :
@steemitblog
@steemcurator01
@justyy
@steemchiller
@spidemen
@steem
@etainclub
@hingsten
@xpilar
@stephenkendal
@coding-gorilla
@starlord28
@remlaps