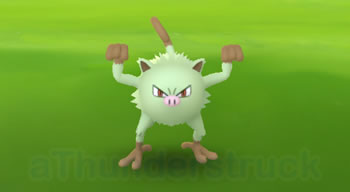 I have found my first ever Shiny Mankey! Back when their Shiny was first released I wasn't lucky enough to come across one. It's often the case when new shinies get introduced and those species spawn more often that I don't really find them, and other times I find quite a few of them. Quite unbalanced in my case xD But it is what it is. I have now finally come across a Shiny Mankey and I was really surprised when I encountered it! :D I was a bit too late to take a screenshot with the stars that show up at the start of the encounter and I didn't know how long it was there so didn't want to risk backing out of it to go back in for the screenshot. Stat wise the Mankey isn't really high. Here you can see the encounter and after I caught it.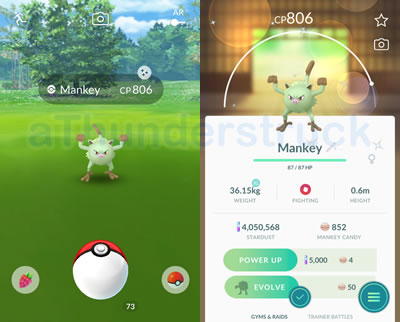 This Shiny Mankey has a greenish colour, making it really ideal for the celebration of St. Patrick's Day this 17th of March! :D
Unfortunately we can't really celebrate St. Patrick's Day now, because all bars etc are closed. But we can still kinda celebrate it in spirit. And possibly at home in voice chat with friends.
A few years ago I did my internship abroad in Ireland, which was for about 3 months. It was during the time for St. Patrick's Day. So with a lot of the other Erasmus students we had agreed to go to Dublin and rent a bus + driver who could drive us from Letterkenny to Dublin early in the morning and back in the evening.
Most of us were going to watch the parade, but it would be a little while before it started. The guy I did my internship with and I we were a bit thirsty so we went around to look for something to drink. Apparently no beers are served before noon then so we settled for another drink and then went back to the rest of the group at the spot to watch the parade. Which was really nice to see!
After the parade we were walking away and at some part there was a huge crowd, a lot of people were going ahead, but there were also a lot of people coming from the right at some intersection. So I followed him, but when we got through the crowd we were confused as to where everyone else was. Apparently they had gone into the stone McDonalds building to the left of that intersection and we didn't see that cause of this crowd xD The two of us spent some time sightseeing the area and getting a coffee, then we met up with a few of the group and went sightseeing some more. Later we headed to a bar with part of our group and had a nice time there until it was almost time to head back to the pickup place with the bus.
It was really cool to have been able to celebrate St. Patrick's Day during that internship abroad! :D
Happy St. Patrick's Day everyone!