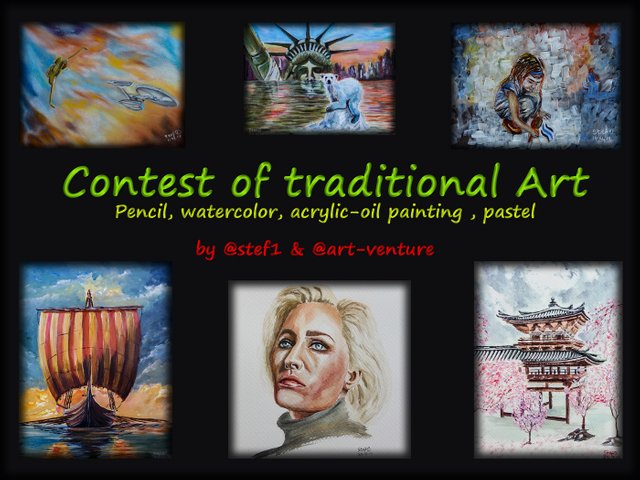 *
Hello my dear Steemians and Art Fans,
###

!! update !!
…...Winning Pot is growing

We are happy to announce that we have one more Sponsor for the Contest ( @steem-agora ) who donated 100 Steem that will be used 50 Steem for Art Contest this time and 50 for the next Contest Photography later this week.
*
---

In the tradition of @art-venture project we wanted to announce a new Art Contest today, that is running as always by @stef1 and @myskye.*
After having some break in Contest now we decided to comeback, we have an opportunity to vote the submission with @steemcurator08 account too, the % of Upvote will be depending on the complexity and quality of Artworks.
This time we are excited to announce that the Steemit Team with @steemcurator01 offered their prizes too as described bellow
---
The Theme of the week: "Childhood"
"Happy Childhood" by @Stef1
Children are our future and without children the world would be too boring, place let your fantasy fly and create some interesting Artworks
*
The Prizes:
The First prize 25t prize 40 Steem
d prize 20 d prize 30 Steemd prize 15 Sd prize 20 Steem
ze ize 10 Ste prize 15 Steem
3 x 5 Steem
nter>



Additional Prizes are kindly offered by the Steemit Team: @steemcurator01


1st = 40% upvote2nd = 30% upvote3rd = 20% upvote4th = 10% upvote
Rules of competition:
! please read these carefully and abide by the rules !
---
*
---
---
---
Litecoin : LUpfhNEjsfCXfjX21zo3hW3jYsdNAPgf2c
Ethereum : 0x1f3D5b5F315C97b7cb3b3d852a4a6CA9473A4DdD
Dogecoin : DRpuNZmjZbrkSzRKFeyKVza2DSvUks1Hpi
Dash : XejGN8iip9XtZotX3xThF1pnwCjU4xZhVD
TRON : TSUjtkDrSVpnighYXe48W6mZPUexdYxaR9
---
---