After creating a label system in the promosteem community, the work became more difficult and we had to work manually. that's why my friends @sogata and I made this tool to facilitate team work and also promoters in monitoring the power activities of promosteem members.
This idea was inspired by the @steemchiller tool, namely https://steemworld.org in the transfer search section, but there must always write the username every time to see transfer information.
And the tools that we made may be slightly different and according to the needs of the promosteem community by registering a user name and it will automatically always be read there. and the work will be easier because we have registered many names or we have listed them there.
PromoSteem aims to create innovation as well as positive things for the community. that's why this tool was created, but it's not final yet, there's still a lot that needs to be changed and improved. However, this is a temporary result and will be updated from time to time
Update 1
PromoSteem Tools ( Power Up Info )
Update 2
PromoSteem Tools ( Power Up Info ) Auto Record
PromoSteem Tools ( Delegator Info ) Auto Record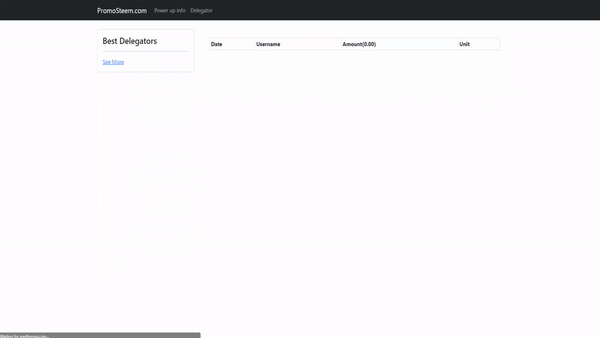 In the future we will always update the progress of the promosteem website and also make some tools that will be useful according to community needs.
we try to make tools that are always updated live and also a professional website for the needs of steem promos.
Thanks to : @steemcurator01, @stephenkendal, @pennsif

PromoSteem Team
@arie.steem @pojan, @ponpase

Promoters Team
@julstamban - Philippines
@mcsamm - Ghana
@nattybongo - Ghana
@cryptokraze - Pakistan
@michaelchijioke - Nigeria
@oscarcc89 - Venezuela


Author : @arie.steem
Contact Discord : arie.steem#4626
Twitter : https://twitter.com/ariesteem