Success is loosely defined as the favorable and prosperous end to endeavors that accomplish one's goals!
Success protocols can be simple or complex. The later usually comes after first mastering the simple basics and aggressively repeating what actually works for you!
In other words, make success protocols a way of life. Let the repetitiveness of simple things you do become your lifestyle for success!
Just saying positive inspirational affirmations is only one aspect of a successful protocol.
There must also be a strong connection to the universal source of all things divine!
You should seek to attain oneness with God the Supreme Being through prayer and meditation as your first priority!
That will tap into the spiritual power and enable wisdom to succeed!
It is essential for dealing with complex issues you may have with success itself. Specifically the attraction of money and the spiritual aspects associated with having it.
The aforementioned protocol is paramount to one's success. Once firmly established as a mindset for success and money attraction, there must be a disciplined action that follows a purpose-filled plan to accomplish goals!
Consequently, the mindset to do the work is also a major part of success protocols. You can even say that mindset is the key to successful action.
So, the simple take away is to have an expansive mind setting agenda which is inclusive of affirmations and subliminal videos to achieve the broad and narrow objectives that contribute to your happiness. Above all make it spiritual because you, in essence, are a spirit!
That spiritual mental programming must take place with intense repetition.
Truly and humbly be honest about where you need to put work in.
Once you identify a character weakness, a negative attitude, or prolonged negative feeling ~ aggressively attack it consciously on all levels where manifested!
Positively persuade yourself to dismiss those negative thoughts. Consciously uproot negative thoughts with positive words of spiritual power!
The simple spiritual discipline of devotion may be all that is needed, i.e., reading holy scriptures and meditating upon there meaning to you at that moment.
Reflect deeply in your mind as to how the Spirit is guiding you to success.
The spiritual words of power you choose will energize and guide your action to constructively rewarding all endeavors towards the accomplishment of set goals.
Remember, the goals you achieve are not the final destination in happiness. They are indicative markers on your journey which gives you the confidence of inevitable success.
Celebrate accomplishments from the least to the greatest, but keep working and move from each milestone to the next goal set before you!
That now brings you to another important success protocol... Never accept failure!
Coming short of a goal's attainment may leave you feeling disappointed. That negative emotional feeling is expected, but never to be accepted.
Seize that critical moment when negative feelings begin to emerge. Arrest it like you set a trap for it... Like it was anticipated and you eagerly expected them.
Quickly capture those thoughts and all of its negative energy. Then consciously and masterfully rewrite a positive script leading towards an amazing victory!
Literally, talk your way out of negativity and discouragement with a powerful inspiring motivational mantra that translates failure into determination and perseverance.
Actually, be the author of that transformation mantra... Use your own words and creatively craft the positive encouragement for yourself!
Passionately recite it mentally until you actually feel an emotional charge spiritually!
Being consciously aware of one's thoughts and feelings will be the hardest part for most people. However, with prolonged practice, you will master the spiritual mental exercise.
One's spiritual discipline of devotion will be instrumental in mastering this success protocol.
It will become second nature ~ an instinctive reaction to stinking thinking whenever it begins to surface mentally and emotionally.
Finally, make absolutely sure you are consciously making the effort to succeed.
Be proactively passionate!
Be consistent daily with unwavering determination to never give up.
Start in the uniquely special moment called the right now and let nothing stop you from moving forward to attain the prize you see as success!
Finishing the task or project is just as important as the goal you want to achieve. It is an opportunity to self-assess and analyze how to perform better at a higher level!
The idea is to make finishing what you start a habit ~ a pattern or template for your everyday living success protocols.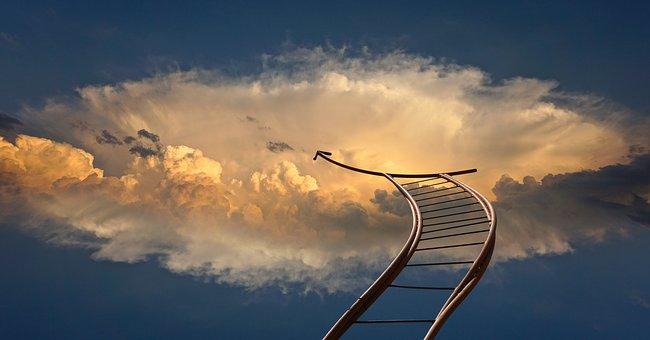 Pixabay is the source of picture