Giving birth in a foreign country is something I never planned to do. When I got pregnant here in Panama, we realized this would be a reality for us. I have given birth five other times, but every birth is different. Here is Part 5 (the end) of my birth experience at a private hospital in Panama.
If you are just now seeing these, be sure to check out my other posts about the baby's birth. Here is Part 1, Part 2, Part 3, and Part 4.
---
---
Nothing happened until around 7:30 the next morning when the pediatrician came in and examined her. She saw her for a handful of minutes and said she would release her at that time. We were excited thinking that we would be leaving that early!
Then a nurse came in saying something about breakfast. Sure, I could eat breakfast and then we could leave. I think we waited an hour for her to return with breakfast – cream cheese on toast, slices of ham, a bowl of fruit, apple juice, jello ($6). I ate the toast and apple juice.
We then asked for an item for me and waited until Ben went out to find a nurse who would bring it. The doctor texted that they would let us know when we were released but it should be soon. So we sat around and waited, took some pictures, and laughed about our crazy night.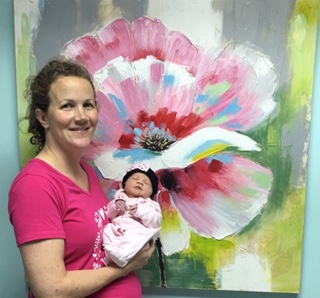 They come in and ask about my lunch (no thanks, I'm leaving!), if she's been bathed, have me sign some paperwork, etc. Finally around 11:00 they come in and tell Ben that he needs to go register her and see the bill. We figure he will be gone a long time and so we are waiting and he returns within about 2 minutes.
We have a green ticket (literally) to get out the door and a copy of a bill that no one really understands. He says he didn't have to sign anything or fill out papers or tell anyone her name, but we are released. So we gather up our stuff and start walking out only to be stopped in the hall and told I must ride a wheelchair out, so we wait for that and tell the guy which exit to push me to.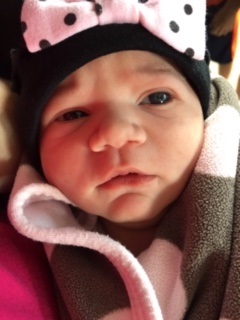 The car ride home!
We walk to the car and are free! We all agree that the ride home was much better than the ride to the hospital!
We were later told we had to return to the hospital and do some paperwork which included giving them her name, getting a certificate of birth from the hospital, and a partial refund of our pre-paid bill. Ben had to do this a few days later.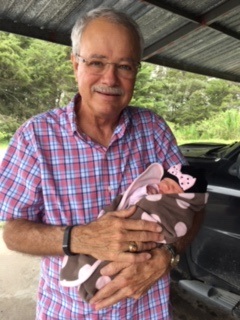 Pop holding #13 grandchild for the first time!
We arrived home to Pop and the other kids waiting outside. Pop gets to hold her first, fresh out of the car! Everyone had written a note to Kalana to welcome her and drew her a picture. Then everyone got a chance to hold the tiny baby who was less than 24 hours old and a whole slew of pictures were taken. The kids were happy to welcome their new baby sister into the family!
Things to note:
The hospital gives you nothing. Nothing. I had a change of hospital gown and a towel waiting in my room. All the drawers and cabinets are empty. They did supply me with toilet paper, so I should be thankful for that. You have to take everything you will need with you. They did ask me if I had pampers, so perhaps they have a supply if you don't have any, but I had brought my own.
The recovery room was right on the ground floor and had lots of outside noises including a car alarm (in the morning thankfully) that never stopped going off.
If you want something done or not done, you have to be pushy about it and let the nurses and doctors know – multiple times.
There are no rules for when you leave the hospital – like buckling your baby in a car seat.
I requested a very hands off approach for myself and the baby, and they were able to do what I requested. After delivery, the baby was quickly checked and returned to me within a matter of minutes.
Thanks for following along on our adventure and welcoming another baby to our home! I hope you enjoyed reading along!
---
---
I am a mom to six kids who lives in Panama. We relocated here about 2.5 years ago and love it. If you're interested in knowing more about Panama, check out the link below and plan to come on a Panama Relocation Tour!