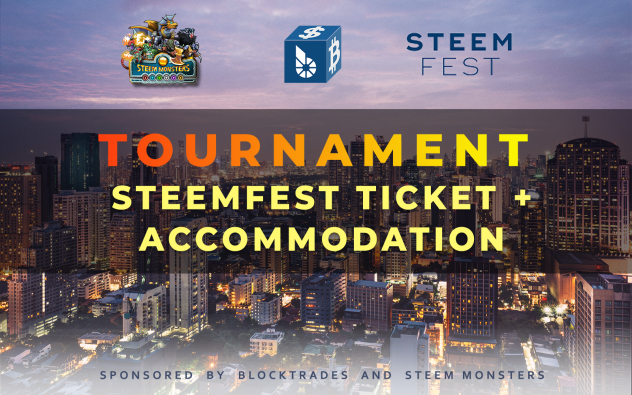 source
---
All these people that want to attend but struggle with the costs of ticket + accommodation should join the tournament!
As one of the persons that would love to attend at Steemfest this year, I also struggle finding ways to have enough money to cover all the costs.. I'm not giving up at this point, but when opportunities like this come along, I have to try to win. @blocktrades is not only giving away a ticket for Steemfest, but also paying for the accommodation! That would mean a huge cut in the budget I need to actually go to Steemfest. I joined the first qualifier but got knocked out pretty quickly. Due to an incomplete deck I wasn't able to get very far, although I play Steemmonsters daily. But as I play a delegated deck with maxed cards from @tcpolymath, I now may have a shot in the gold league qualifiers. My favourite leagues for tournaments are Gold and Diamond, so I have to try to win a ticket to the final tournament. Due to not enough players signing up or checked in, the last 2 tournaments were cancelled. So it's time to call out some of the players and the people that are trying to go to Steemfest this year.
Another qualifier will be held in a little over 8 hours from the time that I'm writing this post, make sure you sign up and check in on time, so we hopefully can all have a shot at this amazing price!!
Sign up link to the next tournament
---
Qualifier tournament information:
The Tournament
Since the prize is something you don't see every day, the Final Tournament will have four previous tournament qualifiers, and only the Top 8 players of every Qualifier will be eligible to join the Final one. One of the Qualifiers has already happened.

After receiving more feedback from the Steem Monsters community, to even the table between high profile players and more humble players, giving everyone a fair chance of winning the Steem Fest even ticket, the second qualifier tournament specifications are:

Free Entry
Gold League
No Legendary Cards
Single elimination
There will be one Qualifier tournament on each of the next four Sundays (UTC Time zone). The time of the tournaments is different each Sunday to give everyone around the globe a fair chance to join at least one of th tournaments; the tournament dates are as follows:
Previous Qualifiers:
1st Qualifier: July 14th at 22:00 UTC
2nd Qualifier: July 28th at 12:00 UTC
Remaining Qualifiers:
3rd Qualifier: July 28th at 22:00 UTC
4th Qualifier: August 4th at 7:00 UTC

The Final tournament will be celebrated in August 11th, time to be confirmed.
If you want to attend Steem Fest, all you have to do is join one of these - or all of them - and finish as top 8 in any of them to get an entry ticket for the Final Tournament where the winner will get a Steem Fest Ticket + Accommodation in the official event hotel. Source
Good luck everyone!