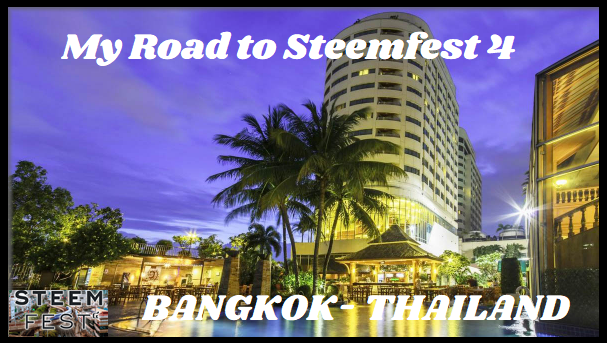 ---
Road To Steemfest
@anomadsoul wrote this post some days ago, asking us who we want to meet in Thailand. So let's make a list of those that I really want to meet finally when I'm at Steemfest.
---
Some people that I met in my early Steemit days
@misslasvegas is one of these people that I met when I was actually writing full time for the @familyprotection community.. She was one of the people that was also very active there, and back then I didn't even know she is a Dutchie abroad just like I am. I know that she's determined to go, and I'm sure she will be there in November.
@simplymike is one of these people that I met on another platform actually, so I really know her from the first days on Steemit. I know she probably isn't going to make it there because of her back, but IF she can make it there, I want to give her a big hug and have fun. She's one of the most friendly and helpful people on the platform, and I have respect for her neverending kindness. And on top of that, she's so much fun as well. I can't even count the times we were having fun about the most stupid things in the @teampossible server.
@buttcoins I met when the @comedyopenmic contest was still running, and @buttcoins was one of the active members there, and also judging like I was. He has been creating video content for as long as I remember, and part of the @ddaily crew. A while ago he asked me to judge for their contest, and we started talking more again, and I'm really glad he asked me to join the judges for their contest, because now he also started being a bit active in our hunt for Satoshi's Treasure with the @steemclan. So many things I'd like to talk about with @buttcoins, as he's a great person, and we will defo meet @ Steemfest.
@raj808 I also met through the Comedyopenmic contest I think (or was it something else Rowan?) and he's the sweetest guy if you ask me. Although I don't always read his poems, I know he is very talented at whatever he does on Steemit. He's a multi-talent if you ask me, and I hope his health will make a turn for the better so he can enjoy Bangkok in November. Fingers crossed, I know it's not certain you'll get there, but if you do, we must meet!
@canadian-coconut has been my greatest support from the start, and I'm forever thankful for that. I don't know if you will be there, but if you make it, I want to give you the biggest hug ever to thank you for your support! You are a great person and if you go, let me know as we must meet :)
---
Some people that I met along the way
@mumma-monza I met maybe a year ago (not even sure lol) and her use of bitmojis always make me laugh. I love her writing style and I can so relate to a lot of things she writes. I think she must be a very cool person, and I expect us to get along very well. So I'm actually looking forward to meet her. I think she's one of the people that will be there 100%, as she is planning on going with her hubby I read. And we will definitely have a girls night out, without the kids yay!! Count me in :)
@derangedvisions I actually met on another platform, but I'm happy to see he found back his way to Steemit, because the guy is talented in so many ways. I bet he's a great person to hang out with, and I'd love to meet him there this year. I read he already has his ticket and booked accommodation recently, so he will be there 100%.
---
Some Steemians that I want to meet for several reasons
@starkerz as I have discovered @oracle-d this year, and I have great respect for the guy. He is probably one of the persons that loves Steem the most, and I would love to chat in real life with him. Even though it's a bit quiet with tasks in the Oracle-d server, I look forward to the moment I can start writing a lot for them again.
@travellit probably don't know me, but I got to know them by watching the Steemfest livestream last year. I always love hearing stories and tips from digital nomads that make money along the way with opportunities they happen to come across. This couple doesn't only seem like they are two great people that I would probably get along with very well, but also I would love to learn more about how they manage to keep travelling being digital nomads. Also I've heard from @misslasvegas that she loves these two as well, so I'm sure she will introduce me to them when we are at Steemfest :)
---
I forgot a ton of people
Because to be honest, the people that I engage with probably know pretty well that I'd love to meet them. But I focussed mainly on those people that I expect to be there, a few exceptions that is. And I think it's not doable to tag all the people that I engage with on the platform. There are too many of you, so don't lynch me for not mentioning you, as it doesn't mean that I'm not excited to meet up.
See you all in Bangkok!!
~Anouk