I bet you've heard about bitcoin.
Yes, that magic internet money that is used by dark entities to complete shady transactions. That currency part of an economic bubble that has no future, knows no laws and it's only a matter of time for it to crash.
Well, turns out there's more than Bitcoin when it comes to cryptocurrencies. And everything the media and the government has told you about it might not be true. In fact, those preconceptions about crypto being some sort of magical money used only for illegal purposes is wrong.
Let me tell you about Steem - The Cryptocurrency for normal people such as you, me and your grandma
Or as you can see here, a cryptocurrency for everyone and anyone from all over the world
Steem is a cryptocurrency based on a decentralized blockchain - no CEO or Government regulates it - with several use cases other than just speculation and investment.
You can use the Steem to play trading card games, to connect your Wordpress blog to an everlasting and never censored platform, you can create controversial videos without the risk of getting demonetized, you can crowdfund your project ideas, measure and record your daily activity and excercise, review restaurants and read about great dishes around the world, among many, many more activities.
Oh right, I almost forgot!
You can also share your Artwork on Steem, get viewers and exposure, experience engagement and receiving feedback while create artistic connections with people like minded! And on top of that, you can actually monetize your content, no matter how many followers you have.
Hundreds of artists are already part of the Steem Blockchain, whether it is as part of an Art community or publishing their paintings, from writers attending workshops to improve their style to canvas painters looking to expand their follower base, no matter what kind of Art you are focused in, there is a community for that on Steem.
If you are an artist, you might be familiar with Inktober and how much this artistic idea has spread over the past few years.
Well, Steem is no exception. We caught the Inktober fever and a lot of the artists part of this Blockchain joined the artistic movement and in a matter of hours after October 1st, you could already notice how many people were publishing their art pieces on the Steem Platform.
That's when @ocd, a curation project, came up with an idea:
Why don't we put together a physical art gallery, featuring the best art pieces published on Steem regarding Inktober?
The biggest Steem event of the year was to be celebrated in Bangkok, Thailand from November 6-11. More than 150 Steemians from all over the world would attend, so it was the perfect venue to give some exposure and recognition to the artists who created some of the most amazing pieces of art for Inktober 2019.
We got busy and created a contest, inviting every artist from Steem to come up with their best pieces. Our curation team handled the task of finding them and rewarding them with cryptocurrency while our management team got to coordinate the physical gallery in Thailand.
What was the result of these efforts?
The First Physical Gallery powered by a Cryptocurrency - Steem - featuring 15 authors from all over the world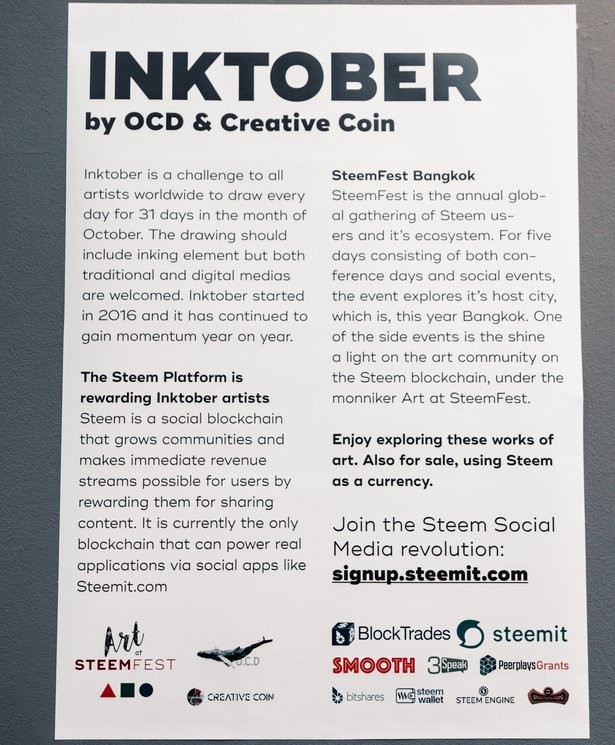 With more than 900 art pieces published on Steem about Inktober, our curation team spent several hours combined every week finding these gems and we rewarded them with thousands of dollars in our cryptocurrency - the Steem Coin - while giving them exposure and allowing other artists and content consumers to appreciate them and give them feedack or words of encouragement.
Thirty pieces of art from 15 Steem Artists. That might not sound like much, but when you put it into perspective... How many artists in the world are getting recognized, featured and rewarded in cryptocurrency and at the same time, are part of a gallery in the very downtown of Bangkok?
And all of that just because they are awesome and they publish their art work on the Steem Blockchain...
You're right, not many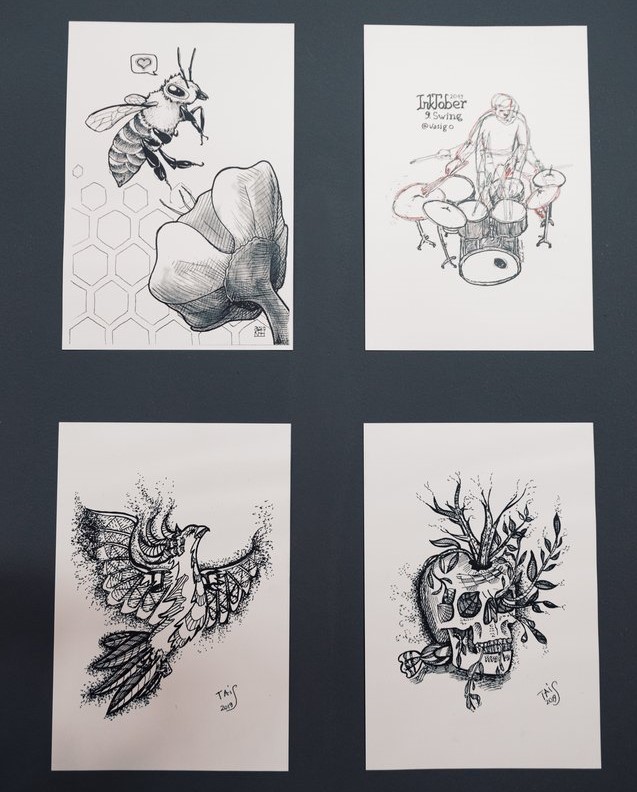 Artists like @sweettais, @vasigo, @derosnec, @katharsisdrill published their Inktober artwork almost daily on the Steem Blockchain, and thanks to that, hundreds of people were lucky to appreciate their pieces.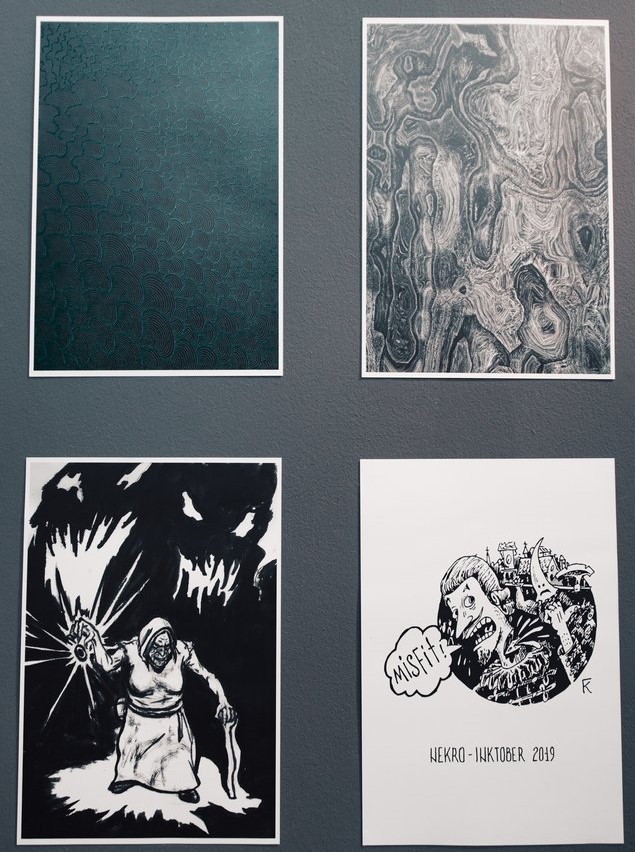 Every Inktober prompt was a challenge for people like @nekromarinist, @michael.dime, @halzart, @shimozurdo and @marian0 and they rose up to the circumstances and came up with pieces like these, with only 24 hours to complete them.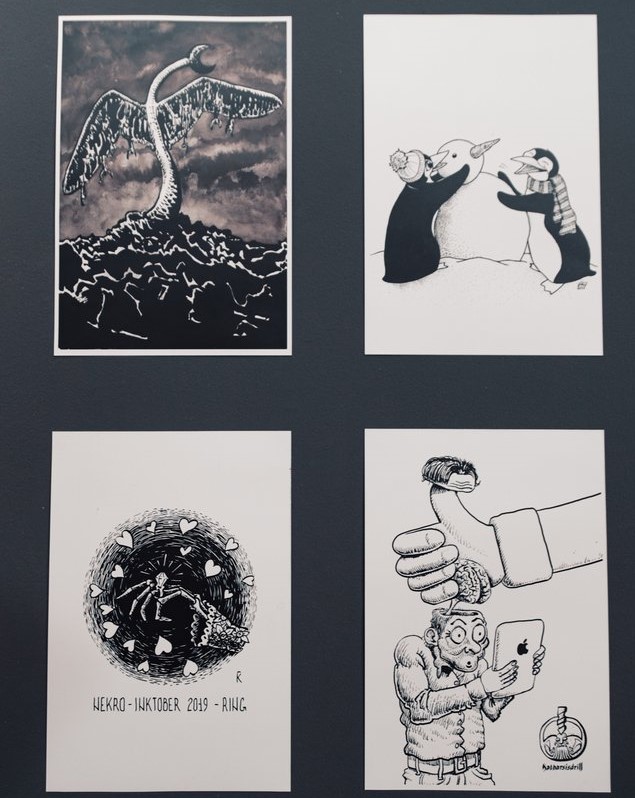 @flynneastwood, @myopart, @shortcut, @mykkolyytinen and @doze shared their pieces on Steem and allowed us to admire them, both on the blockchain as in real life - for those who were lucky enough to attend the @steemfest event in Bangkok.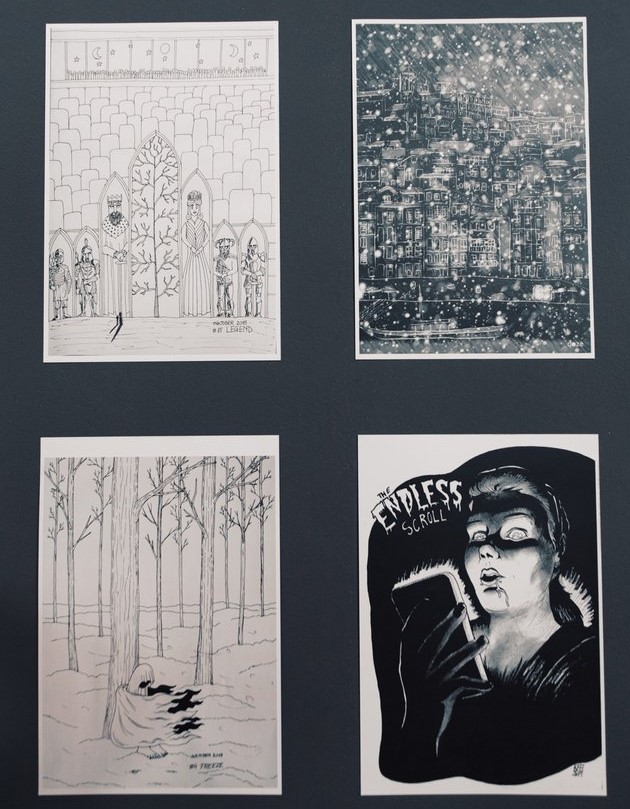 Not to mention the hundreds of Thai eyes and tourists that were able to appreciate the artwork. Without these artists, this whole initiative of having and live art gallery powered by Steem wouldn't have been possible.
These photographies by @derangedvisions are proof that cryptocurrency can be used to power and encourage Art creation and support artists on their never ending journey of inspiration and sharing.
So, if you are an artist and you kept reading up until here... why haven't you opened a Steem account already?
As you can see, there is so much to win and pretty much nothing to lose, while having lots and lots of potential learning, networking, crowdsourcing and inspiration getting from being part of the Steem Blockchain.
Come and be part of Steem. The future is already here
---
---
If you want a Steem account all you have to do is send an email to thegoodwhales@gmail.com telling us what kind of art you do and a link to other social media accounts you have and we'll get you all set up in one day
ssub>This post was shared on Twitter, a [retweet from you would be amazing!](https://twitter.com/thegoodwhales/status/1199437283948019713?s=19
This post was shared on Facebook, a Like or share from would mean wonders to me!