It's the most wonderful time of the year - MANGO SEASON is here! I am feeling so blessed with the many mango trees in our garden. Being able to get them fresh from the tree is just pure bliss.
And the best part... It's just the start of the season. Mango nice creams, mango stews, mango smoothies, mango chutneys,... it's gonna be a lot of mango in the coming few months. I think last year we had the last ones coming off the trees around may.
So all your favorite uses and recipes using this yummy fruit are more than welcome in the comment box below!
Mango Benefits
---
Besides their irresistible, sweet, delicious flavor, mangoes have many good-for-you nutrients to boost health and happiness. They are a good source of dietary fiber, vitamin A-B-C-E-K, copper, folate, potassium, and magnesium. They also contain small amounts of protein, phosphorus, pantothenic acid, calcium, selenium, and iron.
Furthermore, mangoes are an antioxidant powerhouse. It houses over a dozen different types of polyphenols including mangiferin, catechins, anthocyanins, quercetin, kaempferol, rhamnetin, and benzoic acid. Antioxidants as these protect your cells against free radical damage. Free radicals are highly reactive compounds that can bind to and damage your cells, causing signs of aging and many chronic diseases.
Mango Varieties
---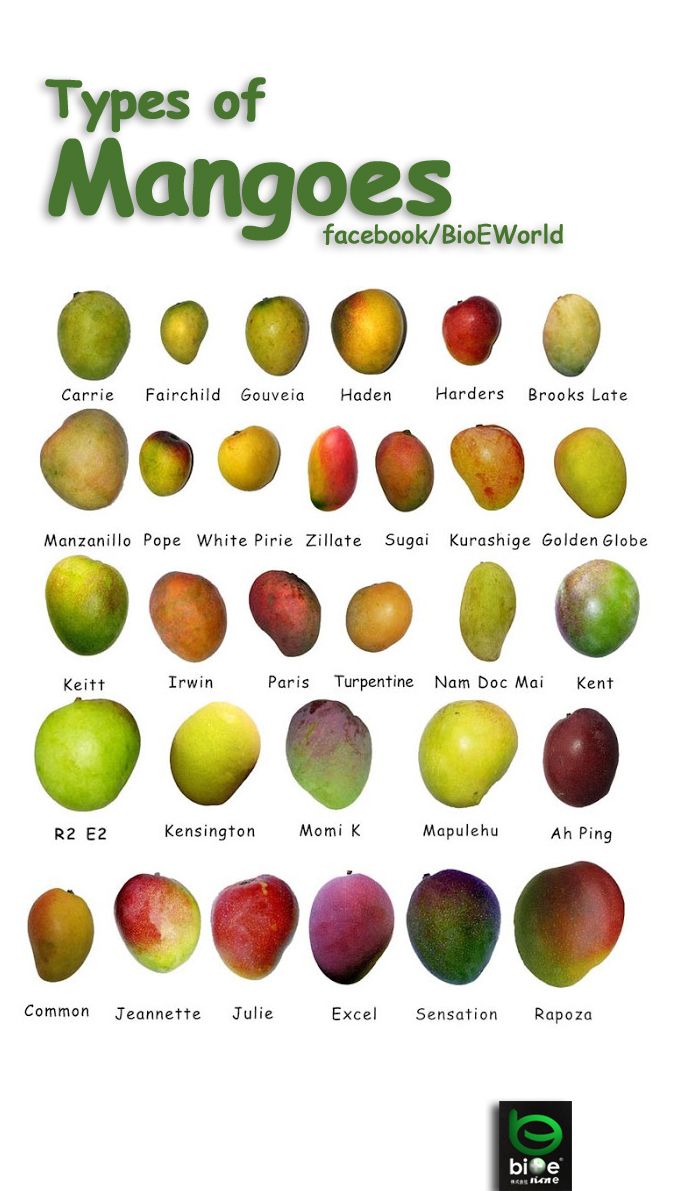 Source
There are so many mango varieties available in our garden. Unfortunately, I am not an expert so I couldn't tell you which ones we have, but the ones that are always bearing fruit first is a mango they call the pomme or apple mango due to its shape.
And then we have a lot of this variety too which I call the standard Cambodian variety as we see them in almost every garden across the country.
Let's start cooking - ONE-POT EGGPLANT CURRY WITH BLACK BEANS AND FRESH MANGO
---
INGREDIENTS (SERVES 2-3)
---
4 cups eggplant, chopped
2 cloves of garlic, minced
1 cup green beans, finely chopped
1 cup cooked black beans
Himalayan pink or sea salt and pepper to taste
Fresh chives, chopped (garnish)
For the mango sauce
---
1 cup mango chunks
1 cup dairy free-yogurt (I used homemade cultured coconut yogurt)
1/2 tsp turmeric powder
1/2 tsp chili powder
1.5 cups water
1/4 cup chickpea flour (gram flour or besan)
We used the typical Cambodian mango for this dish.
Herb mix
---
1/2 tsp fenugreek seeds
1/2 tsp crushed coriander seeds
1 tsp mustard seeds
1/2 tsp cumin seeds
1/4 -1/2 tsp asafoetida
1-2 freshly chopped green chilis, or to taste
Ginger garlic paste (blended ginger and garlic in a 1:1 ratio), to taste
DIRECTIONS
---
Heat cooking oil over medium heat, cook garlic for 1-2 minutes or until fragrant. Stir in the eggplant and green beans and cook covered for 10 minutes. Stir regularly. When ready transfer to a bowl.
Combine all mango sauce ingredients - except the chickpea flour - in a blender. Process until smooth. Then add the chickpea flour and mix by hand until there are no lumps left.
Add the herb mix - except fresh chili, asafoetida, and ginger garlic paste - to a cooking pot. Fry until fragrant. The mustard seeds should start to pop. Then stir in fresh chillis, asafoetida, and garlic ginger paste. Cook for 1 to 2 minutes.
Add the mango sauce, black beans, and eggplant-green bean mixture. Season with salt and pepper to taste. Cooked uncovered for 15 minutes. Add a little water if needed.
Divide over bowl and top with fresh chives.
---

FYI: For green smoothie tips, tricks, and recipes, download my FREE GREEN SMOOTHIE EBOOK HERE!
---
ALL CONTENT IS MINE AND ORIGINAL!
PICTURE(s) TAKEN WITH NIKON D5600
LET'S CONNECT!
---
Website - Facebook - Google+ - Twitter - Pinterest - YouTube
---
🥑🍓🍆 FIND MORE YUMMY PLANT-BASED CREATIONS BELOW 🥑🍓🍆
TROPICAL GREEN KOMBUCHA SMOOTHIE
VEGAN PULLED JACKFRUIT TOSTADAS WITH HOMEMADE TOMATO SAUCE
VEGAN RICE-ILLICIOUS BLUEBERRY RICE MUFFINS WITH CHOCOLATE CASHEW RICE COOKIE
ACAI BLUEBERRY CHIA SEED MORNING BLISS ღ ღ ღ
TROPICAL PASSION FRUIT POST-WORKOUT BOOSTER

CREAMY RED BEET SOUP WITH SPICED CHICKPEA CROUTONS (GLUTEN- AND DAIRY-FREE)
---