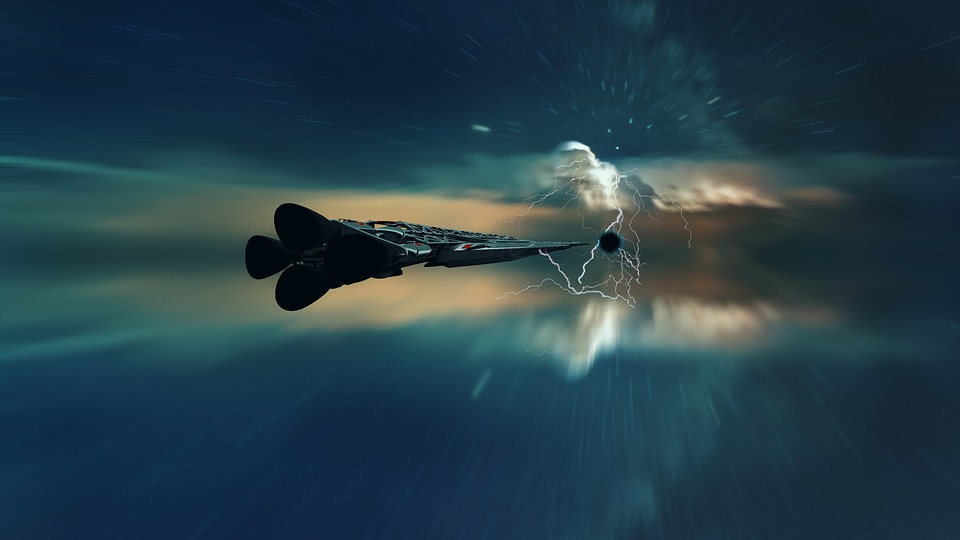 Fuente/Source

Español

El Halo (parte 3)
―¿Qué pudo haber provocado esto?, quien es capaz de aniquilar de esta forma a una flota entera, no eran naves de guerra, ni siquiera portaban armas ―comentó el capitán Josep, mientras se servía una tercera taza de café.
―En la historia de todos los viajes espaciales, nunca había pasado tal cosa ―respondió el teniente Abdel Ivánovich, primer oficial de la Helios ―. No es el hecho de que se pierda una nave o su tripulación, son las circunstancias, nunca antes habíamos encontrado evidencias de un ataque alienígena, al menos a esta escala.
―Ochenta y tres mil muertes… ―musitó Josep ―. Que clase de civilización pudo hacer esto.
―¿Qué pasará con los cuerpos? ―preguntó Abdel.
―La fragata Hiparco y un escuadrón de drones inus vienen en camino, ellos se harán cargo, usarán una bomba de fusión, para incinerar todo. No hay familiares a quienes entregar los cuerpos y por su cantidad, la mejor forma de disponer de ellos es esa, se hará una recolección de material genético para que quede registro de las bajas, para que sean reportados, si acaso en algún momento logramos encontrar al resto de la flota Andrómeda ―explicó Josep.
―Hemos estado buscando a Andrómeda por casi cinco mil años, y cuando encontramos a parte de ellos, están… ―Abdel guardó silencio.
―Lo que no entiendo es, ¿Cómo pudieron llegar aquí? ―dijo Josep, claramente consternado ―. Hasta donde sabemos, la tecnología de sus naves es sub c, no tuvieron el tiempo suficiente para viajar hasta aquí, menos aún en naves generacionales.
―¿Qué hay de los atacantes?
―Sabes lo mismo que yo. El escuadrón de drones inus, parece que se dedicará a rastrear su rastro gravitacional, asumiendo que usaron tecnología de impulso espacio temporal para trasladarse, pero es difícil saber si el rastró en el campo de gravitones aún existe.
Mientras continuaban con su conversación en la oficina del capitán, en la cabina, los sensores de largo alcance alertaron de la salida de impulso de una nave, a no más de mil kilómetros de la posición de la Helios, al lado opuesto del campo de escombros de la flota de Andrómeda.
La alerta se corrió por toda la nave, el capitán y primer oficial corrieron a la cabina tras indicar, mover la nave lo más cerca posible del campo de escombros y prepararse para un salto a máximo impulso.
―Capitán, tenemos un mensaje desde la nave ―dijo el alférez a cargo de las comunicaciones ―. Pero se trata de una codificación desconocida, necesito tiempo para descifrarla.
―No creo que nos den tiempo de hacerlo… ―intervino el operador de los sistemas de armas ―. Nos están escaneando en la banda laser, creo que nos apuntan con sus armas.
―De inmediato, llévenos a impulso máximo, alférez Díaz, ignoré los escombros.
Mientras la Helios iniciaba su impulso espacio temporal, los sensores del casco, pudieron detectar el estallido de un has de plasma a cientos de metros de su ubicación. Mientras se alejaban a 3500 kc, una descomunal explosión incineró tras ellos, el campo de escombros.
―¡Maldición!, pero qué demonios ha sido eso ―exclamo el primer oficial ―. Qué paso con la nave enemiga.
―No nos ha seguido, teniente ―respondió el operador de los sensores ―creo que la hemos dejado atrás. Al parecer han disparado directamente a la mayor de las naves en el campo de escombros y lo han desintegrado todo.
―Los malditos, se percataron de nuestra presencia y decidieron venir a limpiar sus rastros ―comentó Josep ―. Notifiquen la situación a GB01. E informé que tomaremos una ruta panorámica, para asegurarnos de que no nos estén siguiendo.
Texto de @amart29 y arte digital de @xpilar, enero de 2021

English

The Halo (part 3)
-What could have caused this, who is capable of annihilating an entire fleet in this way, were not warships, not even carrying weapons, -commented Captain Josep, while a third cup of coffee was served.
-In the history of all space travel, no such thing has ever happened, - answered Lieutenant Abdel Ivanovich, First Officer of the Helios-. It is not the fact that a ship or its crew is lost, it is the circumstances, we have never before found evidence of an alien attack, at least on this scale.
Eighty-three thousand deaths... -Josep said-. What kind of civilization could have done this?
-What will happen to the bodies,- Abdel asked.
-The frigate Hiparco and a squadron of inus drones are on their way, they will take over, they will use a fusion bomb, to incinerate everything. There are no family members to whom the bodies can be handed over, and because of their number, the best way to dispose of them is to collect genetic material so that a record can be made of the casualties, so that they can be reported, if at any time we manage to find the rest of the Andromeda fleet, - explained Josep.
-We've been looking for Andromeda for almost five thousand years, and when we find part of them, they are... -Abdel was silent.
-What I don't understand is, how could they get here, -said Josep, clearly shocked-. As far as we know, the technology of their ships is sub c, they didn't have enough time to travel here, even less in generational ships.
-What about the attackers?
-You know as much as I do. The squadron of inus drones, it seems that they will track their gravitational trail, assuming that they used space-time impulse technology to move, but it is difficult to know if the trail in the graviton field still exists.
As they continued their conversation in the captain's office in the cockpit, long-range sensors warned of a ship's impulse output, no more than a thousand miles from the Helios' position, on the opposite side of the debris field from Andromeda's fleet.
The alert was spread throughout the ship, the captain and first officer ran to the cockpit after indicating, move the ship as close as possible to the debris field and prepare for a jump to full impulse.
-Captain, we have a message from the ship, -said the ensign in charge of communications-. But it is an unknown coding, I need time to decipher it.
-I don't think they'll give us time to do it... -intervened the operator of the weapons systems-. They are scanning us in the laser band, I think they are aiming their weapons at us.
-Right away, take us to full impulse, Ensign Diaz, ignore the debris.
While the Helios was initiating its space-time impulse, the hull sensors were able to detect the bursting of an area of plasma hundreds of meters away from its location. While they were moving away at 3500 kc, a huge explosion incinerated behind them, the debris field.
-Damn it!, but what the hell was that -exclamed the first officer-. What happened to the enemy ship.
-It didn't follow us, Lieutenant, -responded the sensor operator, -I think we left it behind. It seems that they have shot directly at the largest of the ships in the debris field and disintegrated everything.
-The cursed ones, they noticed our presence and decided to come and clean up their tracks, -commented Josep-. Notify GB01 of the situation. And inform them that we will take a scenic route, to make sure that they are not following us.
Text of @amart29 and digital art of @xpilar, Junary 2021

Gracias a todos por visitar mi publicación, espero sus comentario y agradezco su apoyo, hasta la próxima
---
Thank you all for visiting my publication, I hope your comments and I appreciate your support, until next time