Buenas tardes a toda la comunidad #steemitnursery y a sus moderadores, aprovecho la ocasión para compartirles una experiencia, que me dejó una gran lección.
Good afternoon to the entire #steemitnursery community and its moderators, I take the opportunity to share an experience with you, which left me a great lesson.
---
Cuando te digan que no eres bueno... SIGUE y hazlo hasta lograrlo/ When they tell you you're not good ... GO on and do it until you get there
#
Tengo un par de años intentando cambiar de trabajo, la crisis en Venezuela hizo que el salario de las universidades públicas se devaluara tanto como nuestra moneda, estuve trabajando 10 años como bibliotecaria en una institución de educación superior.
I have a couple of years trying to change jobs, the crisis in Venezuela caused the salary of public universities to devalue as much as our currency, I was working 10 years as a librarian in an institution of higher education.
Fotografía: Galería personal de @alexarelatos
#
A raíz de la pandemia, todo se agudizó un poco más y en esa búsqueda en medio de mis altibajos, me refugié en la escritura. Empecé escribiendo minirrelatos en Twitter con varias palabras clave, todos los días el proceso creativo fluía progresivamente, de tal manera que, más adelante empecé con relatos largos y poesía erótica.
As a result of the pandemic, everything became a little more acute and in that search in the middle of my ups and downs, I took refuge in writing. I started writing mini-stories on Twitter with several keywords, every day the creative process progressively flowed, in such a way that later I started with long stories and erotic poetry.
#
La situación económica me llevó a explotar la redacción de artículos nuevamente, ya que anteriormente lo hice Ad Honorem en un blog de salud por adquirir experiencia y ver mis letras publicadas en una Web de amplio alcance. Gracias a Twitter conocí a una redactora, que con su humildad, don de enseñanza, me ha dado mis primeras oportunidades en la escritura como redactora de artículos, no es algo fijo, pero me ha ayudado a solventar.
The economic situation led me to exploit the writing of articles again, since I previously did it Ad Honorem in a health blog to gain experience and see my lyrics published on a wide-ranging website. Thanks to Twitter I met a writer, who with her humility, gift of teaching, has given me my first opportunities in writing as an article writer, it is not something fixed, but it has helped me to solve.
Imagen: Fuente
#
Cuando entré en razón de que podía usar la escritura como un oficio y a su vez mantenerme... Entonces renuncié a mi antiguo empleo, tengo ya 3 meses desde que culminé mi relación laboral. Empecé a buscar las oportunidades en medio de la Web; tanto en redacción como en otras áreas, aplicando en varios lugares, hace poco hice la prueba con una empresa y me respondieron lo siguiente:
When I entered because I could use writing as a profession and in turn support myself ... Then I resigned from my old job, I have already 3 months since I finished my employment relationship. I started looking for opportunities in the middle of the Web; both in writing and in other areas, applying in various places, I recently did the test with a company and they answered the following:
Imagen: Propiedad de Gmail.
Cabe destacar que me desplomé con esa respuesta, dudé de mis capacidades, me sentí mal conmigo misma, tenía dos opciones: seguir en el dolor o buscar las razones por las que fallé y mejorar. No me quedé con la duda, hablo con mi jefa de trabajos freelancer; primero me dio palabras de aliento y apoyo, segundo revisó el artículo redactado y de acuerdo a su criterio no tenía errores de gravedad, eso me dio un gran alivio. Tengo la certeza de que voy a conseguir un empleo estable; mientras avanzo con #steemit.
It should be noted that I collapsed with that answer, I doubted my abilities, I felt bad about myself, I had two options: continue in pain or look for the reasons why I failed and improve. I was not left with the doubt, I speak with my head of freelancer jobs; First, he gave me words of encouragement and support, secondly, he reviewed the written article and according to his criteria there were no serious errors, that gave me great relief. I am sure that I will get a stable job; as I go #steemit.
Imagen: Fuente
#
Entendí gracias a esta experiencia; que la gramática y el estilo de redacción son dos aristas distintas. Las palabras tienen el poder que tú le otorgues, sirven para hundir o para tomar impulso. Sé que este camino en la redacción es muy competitivo y hay que prepararse para hacerlo mejor cada día y para allá voy. En esa misma línea Steemit también es un gran reto, desafío y todos los días hago un poquito por continuar nutriéndome de toda la plataforma.
I understood thanks to this experience; that grammar and writing style are two different edges. Words have the power that you give them, they serve to sink or to gain momentum. I know that this path in writing is very competitive and you have to prepare to do better every day and that's where I'm going. Along the same lines, Steemit is also a great challenge, and every day I do a little bit to continue nourishing myself from the entire platform.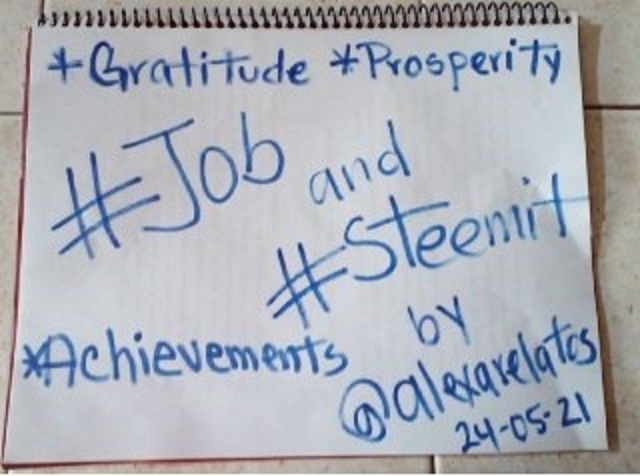 #
Comparto esta frase de autor desconocido que dice: "Permítete ser un principiante, nadie comenzó siendo excelente."
I share this phrase by an unknown author that says: "Let yourself be a beginner, no one started out being excellent."
#
Si llegaste hasta aquí, gracias por tu tiempo para leerme. Bendiciones!
If you made it this far, thanks for your time to read me. Blessings!