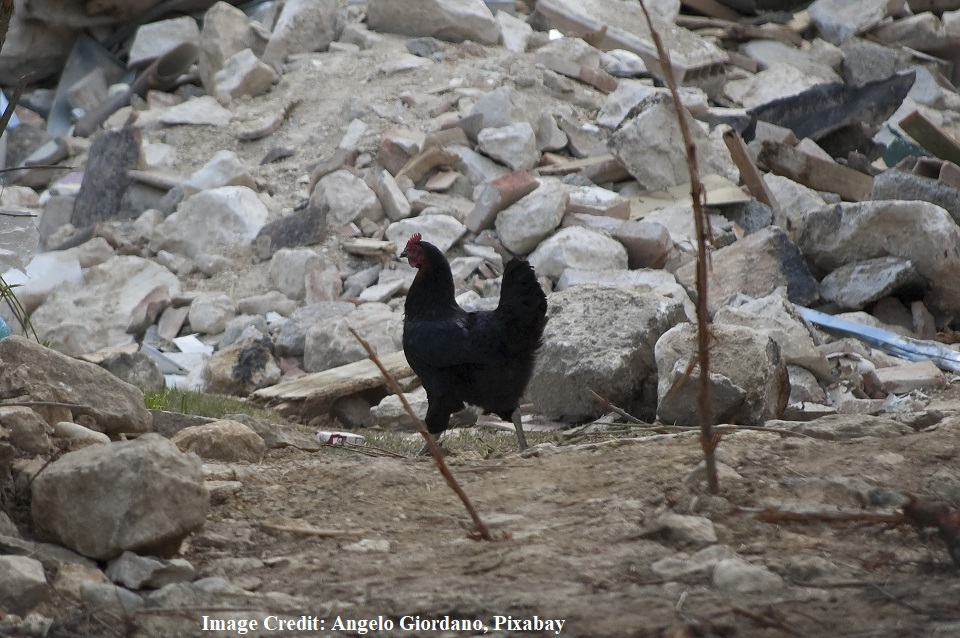 ---
Alarms from remote stations blared throughout the compound. Within seconds, the general siren sounded and all Service Units were on alert. Greesha had awakened to these calls weekly since her posting to Tien Shan #30 Seismic Observatory.
She threw on her regulation cotton jumpsuit and reported to EEG lab. Her electrode helmet sent a storm of accelerated messages to Central Console. Data instantaneously coordinated with readings from dozens of other sites along the Tien Shan range.
Within five minutes Greesha was disconnected from Central Console and guided to Narrative. There she gave a subjective impression of the information her brain had recorded during the Event:
"Tremors will not be felt in Bishkek for at least three days. These disturbances will be mild, almost imperceptible, and only in the outskirts of the city. No landslide alert need be issued."
She was certain of her prediction. Magnetic field disturbances came to her like three-dimensional maps. She could visualize activity on their path, all the way back to their source.
She passed a queue of AI terminals on her return to Sleep Chamber. Would AI ever be perfected to the point where it would be superior to her subjective contribution? What would her value be then, she wondered. What would be her purpose on earth?
Her entire life she had been primed for one function: to predict the location, intensity and timing of future earthquakes. She felt a satisfaction in being able to offer accurate projections. But, as had been happening with increasing intensity lately, a sense of hollowness, a disquiet disturbed her peace. It was for this reason that she looked forward to her next posting. There, it was promised, she would undergo the most dramatic change of her young life. She would find, or be assigned, a life match.
---
Greesha had become a Human Magnetoreceptor Class 1a nine months before. It was the culmination of preparation that had begun when she was a child, in preschool. Sensory screenings, to which all children were subject, had revealed an extraordinary sensitivity, an innate ability to detect variations in the earth's magnetic field. Brain images showed a greater than usual complement of magnetites in her cerebellum and brain stem. The number of magnetites could be surgically augmented, research had proven, and her magnetoreceptivity dramatically enhanced.
When she was four years old, she was removed from her family, and additional magnetites were implanted. At that point she was placed in a training institute. Over the years refinement of her talent enabled her to pinpoint not only the timing of a quake, but its strength and origin. Thousands of children from her generation were likewise identified and trained. The result was an army of Human Magnetoreceptors who were stationed all over the world and who alerted populations about the danger of impending earthquakes.
Her life work, she was instructed, was more important than her individual destiny. Despite this ingrained orthodoxy, Greesha found it impossible to repress an undefinable yearning for something she did not know, could not even imagine. This yearning, she realized was the source of her present disquiet, and it threatened to undermine her effectiveness as a Human Magnetoreceptor.
---
---
Where had they sent her? Where was the match-making compound? She recognized from magnetic field emanations that she was in Northwest USA, near the Cascadia megathrust fault. She'd been in the area before, but not in this complex. The Directors of the compound were quite clear about the purpose of her mission: she was to find among the vast number of assembled Human Magnetoreceptors the one individual who was suited to be her mate for life.
Meet-ups were organized: chess games, tennis matches, yoga sessions. In each interaction, same sex association was forbidden. Males and females only were to pair. This pairing would be random, until a suitable match was established. The goal of these pairings, ultimately, was for a second generation of Human Magnetoreceptors to be produced. Natural breeding was considered superior to test tube gene manipulation for achieving this outcome.
The structured meet-ups for Greesha were awkward, particularly because she had heightened extrasensory abilities. She represented a small subset of Magnetoreceptors who not only could perceive variations in the earth's magnetic field, but who also could sense changes in human emotions. During the meet-ups impressions from excited participants assaulted her senses.
Mealtimes were especially hard. These were sheer chaos. Never had such a lack of order existed in her life. Never, she realized, had she been offered the freedom to make so many independent choices.
It happened one day, soon after her arrival, that a sour individual sat next to her at mealtime. She thought at first this pairing was accidental. Then he sat next to her a second, and third time. She realized then that a plan was afoot. She needed an opportunity to separate herself from this unpleasant seatmate. Fortunately, that opportunity came before the end of their third encounter.
He had been chatting throughout the meal, commenting acerbically on one person or another. Then he turned to her with a sidelong glance, the pupils of his eyes barely visible between the slits of narrowed lids.
"I understand you're good," he remarked. "That's what I heard. Spot on, every time. Do you think you were born with this...extra oomph?"
Greesha was repelled more than she had been on her two previous encounters with this individual. It hit her suddenly: he couldn't sense her revulsion. He did not have the gift.
"I don't know if I'd call it 'oomph," she responded. "Whatever I have, it's not for my benefit."
How stiff, how awkward she sounded! But no one had ever taught her to make small talk, to dissemble.
His pupils slid around under the slightly opened eyelids. She noticed long lashes. Really long lashes. She focused on that and tried not to smell the coffee on his breath, or follow his elusive pupils
"Well," he continued, though she did not encourage him, "whatever you have, I like it. Suits my style. You're not like the other Units here. I noticed that from the start. The way you carry yourself. I think we might make a good match."
Greesha was horrified. Had she been more more experienced she would have seen this proposal coming. She couldn't sense it though, because it was pure calculation. Her extrasensory skills only provided insight into emotions.
"We just got here," she mumbled, a will to survive helping her to find words. "We're encouraged to meet many Potentials. I've only met one other besides you. It wouldn't be right to restrict our choices so soon. I don't think we should pair up again, at mealtime or anywhere, until we've met more Potentials."
Ah, now she felt it. Anger. Strong. A bully, roused. These emotions came through starkly, like a blow to her chest.
His face darkened.
"You know, someday you're going to meet someone who takes you off your high horse. Maybe it won't be me...Hope I get to see that, though." He pushed his chair back as he stood. It tottered and then crashed to the floor.
Greesha was relieved. Would it be this hard, all the time? She looked warily around the room to see if anyone had witnessed the scene. Behind her. She felt it. Again, strong. Humor. Somebody was laughing. She turned around. She couldn't see the laughter in his face, except around the eyes. There. And then the humor swept across her in waves.
He had the gift!! Another sensitive!! She was too timid to acknowledge him, but she didn't have to. He got up, ignored the fallen chair and pulled up a new one.
"Hi. The name's Eran. Greesha, right?" He put his hand out. She took it and the sense of joviality increased as they touched.
"Yes, Greesha."
---
They were formally matched two weeks later. They discovered that foresight in each was heightened by a kind of synergy when they were together. For the rest of their lives they would be posted as a team at seismic observatories around the world.
Never again would Greesha feel the hollowness that had once troubled her. As she went about her duties and observed the increasing accuracy of AI terminals during earthquake alerts, she didn't doubt her worth. Her relationship with Eran had awakened in her the realizations that AI could never duplicate one quality she possessed:
She was human.


The story was writing in response to prompt suggested by @calluna in her #tellastorytome contest. I try never to miss an edition of this contest.
@calluna has for many months provided a platform for writers to stretch their creative muscles. She does so now under the sponsorship of @bananafish. The prompts for the contest are usually very evocative. This one had me researching whale and pigeon navigation. I hope the research helped me to write a credible story.
Calluna's prompt:
I am looking for a fictional story set in a world where people are able to make fairly accurate predictions 24-72 hours into the future.
If you are intrigued by this prompt, you have more than a day to enter. Deadline is Midnight of August 15th. What have you got to lose? This is great fun.