INTRODUCTION
Greetings to all steemians all over the globe. I am here to participate in this special contest for Steem Africa. Special thanks to @steemfoods for organizing this unique contest in the community.
EFO RIRO
Efo Riro is a rich vegetable soup that is native to the Yorubas of Western Nigeria. There are variety of vegetables that can be used to cook this soup: Water leaves, Pumpkin, Soko, Tete, Amunu tutu (I haven't found the English names for the ones in Yoruba). Of these,Soko, Water leaves and Pumpkin are commonly used.
I am from the Western Part of Nigeria, specifically Yoruba. So I decided to make this soup. But it can be cooked or enjoyed by just anyone.
For this entry,I will be using pumpkin leaves,commonly called "Ugwu" here in Nigeria, to cook the soup.
INGREDIENTS

Pumpkin leaves (Telfairia occidentalis) A vegetable that is very rich in vitamins,iron and other minerals. Besides used for cooking soup, the extract (manually made by scrubbing the leaves inbetween hands) is taken as iron supplement.

Smoked fish

Pomo (Cowskin)

Crayfish

Scotch Bonnet Pepper aand Tomatoes

Onion

Locust beans ( native flavouring ingredient rich in proteins, lipid, carbohydrates and a good source of fat and calcium)

Palm oil

Stock cubes and salt to taste
The more animal proteins you add,the more varieties you give Efo riro. So you can also add dry fish, stock fish,assorted meat, beef,snails etc
Among the Yorubas,we have Efo Riro elemi meta if you use 3 animal proteins like the one I made . And if you use up to 7, it is called Efo Riro Elemi meje
PREPARATION
•Blitz the pepper and tomatoes with half bulb of the onion.
•Dice the second half onions
•Fillet fish,divide into big pieces,rinse well and season with salt.
•Clean the cowskin very well,rinse well,cut into small pieces and season with salt.
•Rinse the pumpkin leaves thoroughy and keep in a sieve to drain off excess water. I usually rinsed three times.
•Rinse crayfish and locust beans.
You may prefer to grind the crayfish. For this,just clean them well,you don't have to rinse.
COOKING THE SOUP
Place your pot on medium heat,once it is hot,add some palm oil. You just need the oil to be hot.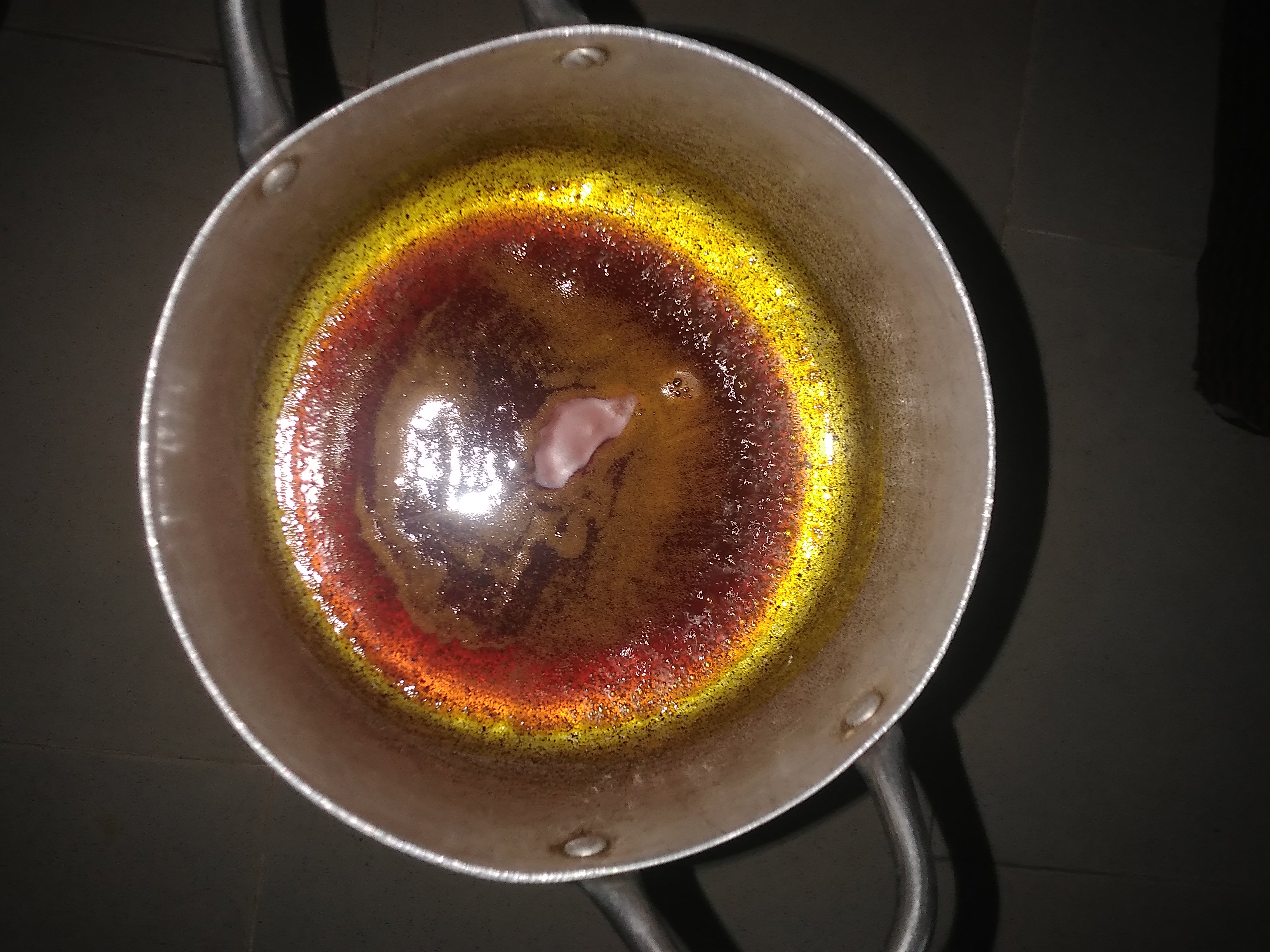 Then add the locust beans and stir with a spatula. I used a wooden one. Saute it and add the onions. Let both fry for few seconds. This releases nice flavour into the soup.
Add the blended pepper,stir in and cook for few minutes.( You can add the beef broth if you are using beef)
Add the stock cubes and stir. Let it cook for another few minutes.
Then add the crayfish and diced cowskin and stir . If you are using beef and assorted meat you add here. Leave to cook for some minutes.
Then add the fish and stir in gently so the fish don't split too much.
Allow the sauce to cook until it thickens and taste cooked. Here we add the vegetable and stir. Vegetable is the last thing you add because overly cooked vegetable lose their nutrients.
Cover it and let it steam on low heat for few seconds then check for salt and balance the taste.
I only added a pinch here because the fish and cowskin were already salted before adding them to the sauce.
Efo Riro is Ready!
WHEAT MEAL
fo riiro can be enjoyed with wheheat meal. Wheat meal is ppared using either processed wheat or local wheat . In my home, we usually make our wheat flour from local wheat mixed with soya beans. And grind them at the grinding mill.
Wheat is rich in dietary fibre,proteins,vitamins (particularly vitamin B complex) and phytochemicals . Soya beans is also rich in prroteins. Altogether, wheat meal is highly nutritious.
his sallow is easy to make. Once water boils,add sufficient amount of flour and turn in with a spatula. Then add little by little until it is thick enough.
Turn it well several times till it becomes smooth and glutinous.
Then add little hot water at the base . Cover it and leave it to steam for some time.
Turn it again. You may add more hot water to get desired texture. Turn it to get a smooth soft texture.
Then,placed it down from the heat and give it a final turning before scooping. You can scoop and wrap in nylon or into plate directly.
Efo Riro Andd Wheat Meal Ready ToEat!
Efo Riro can be enjoyed with other varieties of swallow like garri,pounded yam,semolina and ffufu.
Efo Riroandd Wheat Meal is a simle to make delicious traditional food, that is rich in nutrients the body needs for good functioning and healthy growth.
Thank you all for reading through.
Special thanks :
@steemfoods
@steemalive
@steemcurator01
@steemcurator02
@booming