My Actifit Blog #925 | 23 April 2021 |
Very often I run on bike paths or simple asphalt paths that offer little variety for the foot.
Sometimes it is very important for running training that you plan different terrain for your running sessions. So also today: mainly gravel paths with very many stones.
I felt my tendons and muscles in the foot area tense for hours after the run, a sign that they receive an appropriate stimulus to better adapt to a changeable surface.

Sehr oft laufe ich auf Radwegen oder einfachen Asphaltwegen, die für den Fuß wenig Abwechslung bieten.
Mitunter ist es für das Lauftraining sehr wichtig, dass man unterschiedliches Terrain für seine Laufeinheiten einplant. So auch heute: überwiegend Schotterwege mit sehr vielen Steinen.
Ich spürte noch Stunden nach dem Lauf wie meine Sehnen und Muskeln im Fußbereich sich angespannt anfühlten, ein Zeichen dafür, dass sie einen entsprechenden Reiz erhalten um sich einem wechselhaften Untergrund besser anzupassen.
Stats for Today
Running: 7 km
Current Total 2021: 624 km
Activity Count: 11 256 steps

(counted with Fitbit device and synced with @actifit fitness tracker)
Activity Type:
Running, Daily Activities
Current Actifit User Rank: 65 (+20.20*) *Holding 202.00 AFITX tokens
Rewarded Activity Reports: Level 9/10
Checkout all original rewarded Reports on actifit.io UI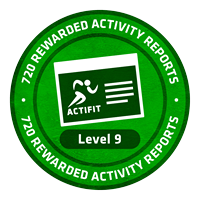 Next and last Badge: Level 10 needs to have 1080 Rewarded Activity Reports!
How to start your actifit/HIVE account:
• Signup for a HIVE-account https://hiveonboard.com/create-account?ref=actifit-peter">here or here
• Download the app for Android or IOS
• Join Actifit's community on Discord for discussions and help
• Follow @actifit for daily News and Statistics
• Read the Official White Paper for further information on the project!
• Please vote for @actifit as witness!! The team is doing an excellent job!
• Make at least 5000 steps daily and get upvotes from @actifit!
• Now you are ready to go to the Moon!
• Distance to the Moon: Ø 385000 km! Enjoy your lifelong travel! 😄
This is my actifit posting account! I'm trying to enhance my health and fitness mainly by running, walking and cycling.
Please support and follow my progress! Thanks so much!
In addition your steps can earn Sweat-Coins!
Please use the following link to download the App (IOS or Android):
Sweat-Coins
Life is Motion! Live an active Lifestyle to stay healthy and fit!
Photos © by actifit-peter
Who-Am-I ?