At the weekend I presented some data that included the amount of STEEM being sent to a selection of some of the most popular Bid-bots. In the comments it was suggested that delegations to the bots should be assessed to see if this was shrinking or not.....
---
After a couple of hours of fiddling around with TxDelegateVestingShares of SteemSQL fame by @arcange, I have finally gotten my head around ROW_NUMBER() and OVER(PARTITION BY ... ) and have the following to present.
I used today's delegation totals to 11 Bid-bots and worked backwards a week at a time, covering 7 weeks in total which places the latest hard fork(s) nicely in the middle of the dataset.
The 11 Bid-bots used: 'appreciator', 'booster', 'buildawhale', 'minnowvotes', 'ocdb', 'postpromoter', 'rocky1', 'smartsteem', 'therising', 'tipu', and 'upmewhale'.
I opted for Steem Power over MVESTS as the figure to present. Due to the number of STEEM per VESTS growing slightly all the time, the further back in time the data goes, the slightly more inaccurate the total is. Today, the number of STEEM per VESTS is 505.098, 7 weeks ago this number was probably closer to 505.000. I don't think it makes a noticeable difference to the numbers but I thought I'd best mention it.
Why didn't you use VESTS then?

#
The numbers are crazy big and most people think in SP.
Anyway, enough chat, time for the image.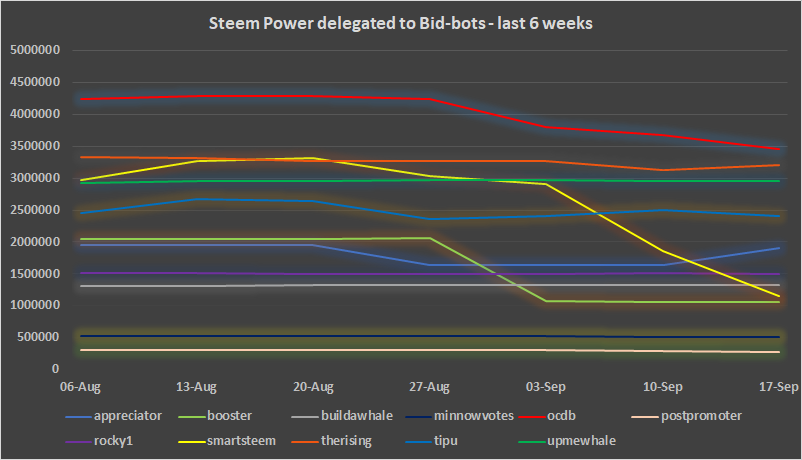 Whilst looking quite colourful it's not that easy to see what's been happening, although 'ocdb', 'smartsteem', and 'booster' show up quite well and show a dip in the week following the recent hard fork(s). It's also not that easy to see in the table below, but it's here for completeness.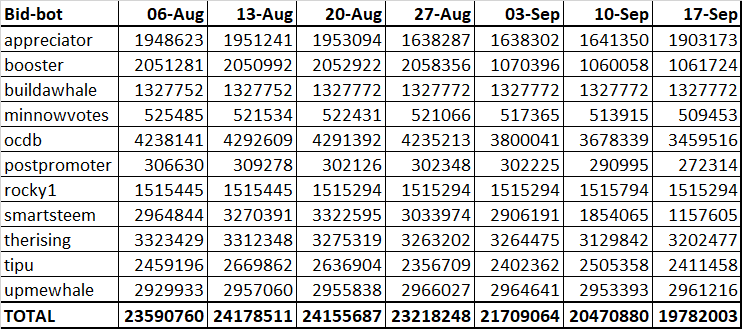 Almost 23.6 million Steem Power was delegated out to the 11 bots above on the 6th August, that total is around 19.8 million today - 19% less. And to visualize this: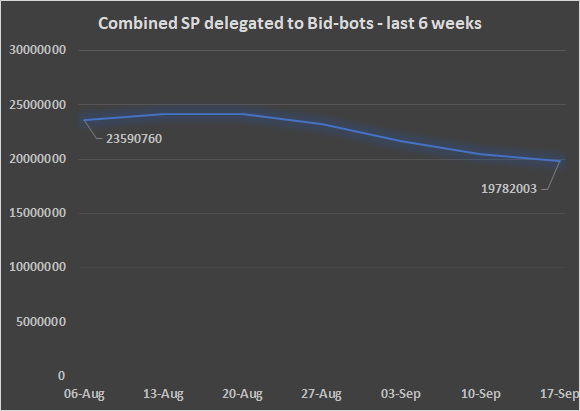 ---
A couple of points:
Hopefully, this 19% is going out to content creators producing content that the stakeholder deems worthy, instead of them being paid to look away - 3.7 million Steem Power is a reasonable addition to the 'organic' voting stake.
The other point I want to mention is that I'm not overly disappointed it's not more - especially in the case of @ocdb and @buildawhale. Since the beginning of the month, these Bid-bots (with a current combined stake of almost 4.8 million SP) are actively using their 'free' downvote mana each day to combat some of the blockchains most stubborn accounts, and I see this as a good thing.
What say you?
Cheers
Asher