Zappl inc is taking this very serious and need to gather data on users who might be interested in what we want to do. As you can tell from the post's tittle we're looking into possibly making an exchange. We feel as a company the services it could bring to the market could bring the price of steem up. But it could also give the ability for merchant services as well for steem related sites.
I know some people wonder would this site have more then just steem and sbd?
The plan is to have many fiat trading pairs as well a few altcoins like eth ltc and btc.
---
So please vote on this poll we have made on twitter and share it with people: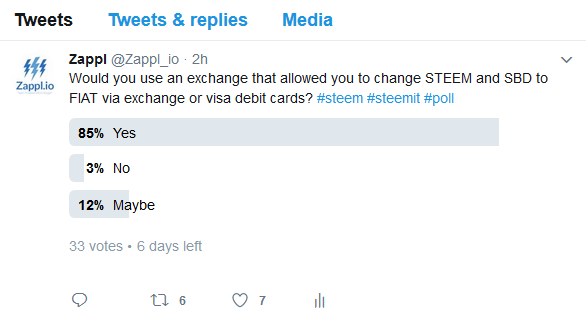 https://twitter.com/Zappl_io/status/884124587046223873
Please reshare this post with everyone you know its pretty important data we need.
---
The Zappl Team
Our social media profiles and misc:
Twitter | Facebook | Discord | steemitchat
Follow, Upvote, Comment, ReSteem, Share
@thedegensloth, @steemitqa , and @zappl