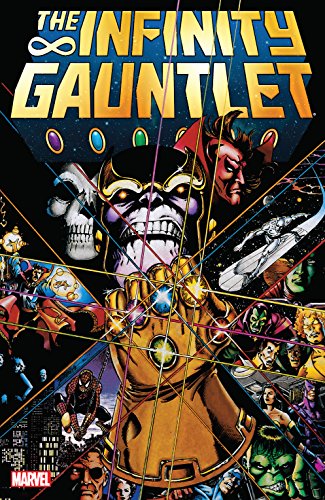 .
Infinity Gauntlet (English Edition) by Jim Starlin.

Hello Friends,
My yesterday reading. If you like Comics, the Marvel universe, you will like this one: The Infinity Gauntlet. A 1991 serie of 6 comics novels in one.
"Thanos, the lover of Death, is back. And he has a weapon that makes him the most powerful being in the universe: the Infinite Glove. Adorned with jewels with incredible powers, he represents, in the hands of the Mad Titan, a terrible threat to all realities. A danger that the heroes of the Earth hope to repel. In this volume, the mini-series that revolutionized the Marvel world in the early '90s, The Thanos Challenge, written by a master of cosmic epics, Jim Starlin, and illustrated by George Perez (Avengers) and Ron Lim".
https://www.marvel.com/comics/series/2023/infinity_gauntlet_1991
https://www.amazon.fr/Infinity-Gauntlet-Jim-Starlin-ebook/dp/B00EARP0HM
Have a fantastic day! :0)
---
I'm a music composer artist.
Track of the day: Moondance
https://choon.co/tracks/92o1jss84d/moon-dance/
My Music : https://choon.co/artists/solarphasing/
Spotify Me: https://open.spotify.com/artist/0FarK4tJsP9D043gqpMCzN
You can buy my music on Bandcamp: https://solarphasing.bandcamp.com
Juan, @SolarPhasing
http://solarphasing.com
Make a donation to support my music art:
ETH: 0x074425f23064c2a97bb29e5882028135cc2b4396
BTC: bc1qlguj83ztxm6r356kz78d56sazeycdxara9dd43