Fast development of the gaming industry has revealed new challenges related to gaming marketing, incoherent revenue policy of the existing platforms, issues with applications accessibility for gamers, focusing more on payments processing than on providing high-quality products etc.
Solving the above-stated challenges is possible via integration of the blockchain mechanisms into the gaming industry. Good results in this respect have been achieved by YUMERIUM PROJECT that is going to introduce to the world a new decentralized multifunctional platform aiming at making gamers and developers free from centralized distribution platforms by utilizing blockchain and smart contract technology.
WEBSITE: https://www.yumerium.com
WHITEPAPER: https://www.yumerium.com/resources/files/whitepaper_en.pdf

Let us examine the main aspects of YUMERIUM project and underlying fundraising campaign (ICO).
WHY YUMERIUM?
There are some reasons why YUMERIUM is going to become a reputed player in the further development of the gaming industry within PC, mobile, and VR platforms. One of the main reason is a unique approach which implies creating a technical multifunctional gaming platform combining such functions as payment, license management with DRM, gaming token with real value, and incentive system in the form of "earn-to-play" model. Incentivizing gamers will be happening through giving them tokens which can be used like real money.
OFFICIAL PROMO VIDEO:
Cryptocurrency reward system will force a lot of gamers to proactive participation in the community thus facilitating its growth. YUM tokens will be also given for watching promotional videos, winning a tournament or just sharing links to social networks, leaving reviews for the games or any other activities set by the game developers. Furthermore, YUMERIUM is going to provide a system for game developers serving as a marketing ecosystem for allocation budget as rewards within YUMERIUM platform.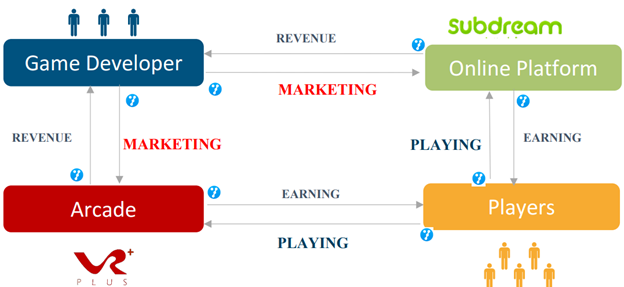 The KEY ADVANTAGES of YUMERIUM solution can be represented by a list of the following features:
👉 Removing intermediaries thus giving more power to developers in terms of marketing and earnings;
👉 Content outright belongs to gamers and not to gaming platforms;
👉 Incentivizing gamers with tokens thus maintaining loyalty to the platform and improving retention level;
👉 Verifying ownership of the limited edition copy via blockchain;
👉 Allowing for cheaper campaigns or independent campaigns due to system decentralization;
👉 Developers can customize revenue sharing models and determine preferred allocation structure;
👉 Possibility to resell blockchain license;
👉 Compensating influencers by establishing affiliate programs;
👉 Compensating reviewers.
The above-stated advantages make YUMERIUM platform a win-win ecosystem for developers and gamers providing a cheap alternative that does not currently exist in the market today. The main goal of YUMERIUM is to assist developers by giving the tools to run their own decentralized prize campaign thus reducing marketing costs and saving money for further project development.
YUMERIUM project may be considered as one of the earliest adopters of blockchain integration into the gaming industry. This fact attracts a lot of institutional investors and private individuals who invest money in the form of ICO - a new way of fundraising through issuing the underlying crypto tokens of the project (YUM). Let us look into the details of token specifications and fundraising campaign.
YUM Token and ICO Terms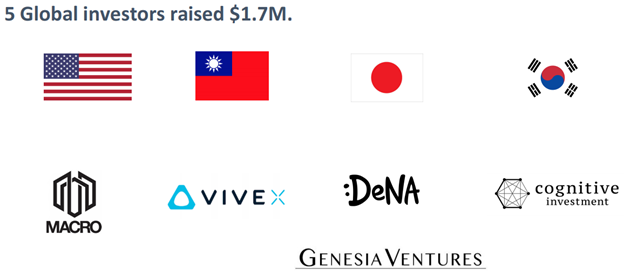 YUMERIUM is going to issue YUMERIUM Tokens (YUM) serving as the utility for the gaming environment and major cryptocurrency within decentralized smart ecosystem for payments, getting rewards, ensuring smoother transaction in a cost-effective manner and maintaining functionality of the gameplay and game development processes. In other words, YUM Tokens can be used for building, distributing, and enjoying innovative YUMERIUM gaming space to full extent.
YUM TOKEN SALE DETAILS:

📌 TOKEN SYMBOL: YUM
📌 STANDARD: ERC20
📌 SOFTCAP: $3M
📌 HARDCAP: $20M
📌 PRE-SALE 1: May 24 - June 9 (30% bonus)
📌 PRE-SALE 2: June 10 - June 25 (20% bonus)
📌 PRE-SALE 3: June 26 - July 10 (10% bonus)
📌 MAIN SALE: July 11 - July 24
📌 TOKEN PRICE: 1 ETH = 7000 YUM
It must be noted that bonuses are available not only depending on the ICO stage but also based on volumes:

YUM Tokens allocation will take place according to the following structure: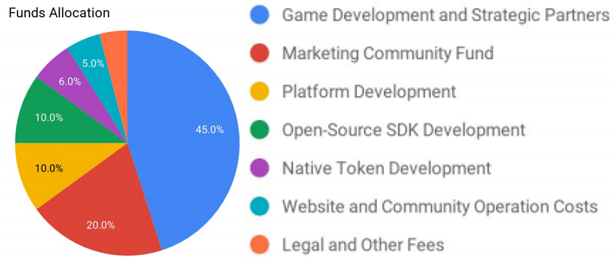 ---
PROJECT TEAM:
YUMERIUM project team is quite large and consists of highly-qualified people having a lot of knowledge in blockchain technology, mobile applications, gaming industry, business development, software engineering and architecture, interface design, interaction design, data transmission, ICO marketing etc. It is noticeable that the co-founders of YUMERIUM project (Jikhan Jung, Francisco Martin, Jaehyun Lee) have selected the team members and advisors very carefully and this can really help this undertaking to achieve stated financial results and implement the concept of blockchain integration into the gaming ecosystem. More explicit information on the team members and advisors can be found in the official project whitepaper (starting at p.31) by following the link: https://www.yumerium.com/resources/files/whitepaper_en.pdf
---
CONCLUSIONS
YUMERIUM project is quite encouraging in terms of developing a new and unprecedented blockchain gaming ecosystem (YUMERIUM platform) taking into account the needs of developers and gamers. By integration blockchain mechanisms and smart contracts YUMERIUM will be able to resolve current gaming industry challenges and introduce a modern "earn-to-play" model with an embedded crypto incentive system. Both developers and gamers will be able to take advantage of fast and secure management their gaming data in the controlled and smart way by using YUM tokens. This project is worth investigating in more details because the unique and innovative approach can really result in facilitating the development of the global gaming industry. YUMERIUM undertaking is very promising in terms of high ROI so let us track the progress of the fundraising campaign in order to see the emergence of the new blockchain based gaming entity.
PROJECT CONTACT DETAILS:
Website: https://www.yumerium.com
Whitepaper: https://www.yumerium.com/resources/files/whitepaper_en.pdf
Telegram: https://t.me/yumerium
Twitter: https://twitter.com/yumeriumtoken
Facebook: https://www.facebook.com/Yumeriumtoken/
Bitcointalk ANN: https://bitcointalk.org/index.php?topic=3272290.new#new
The author of the article (on Bitcointalk):
https://bitcointalk.org/index.php?action=profile;u=1144629
Any feedback on YUMERIUM project would be really appreciated.
Thank you!