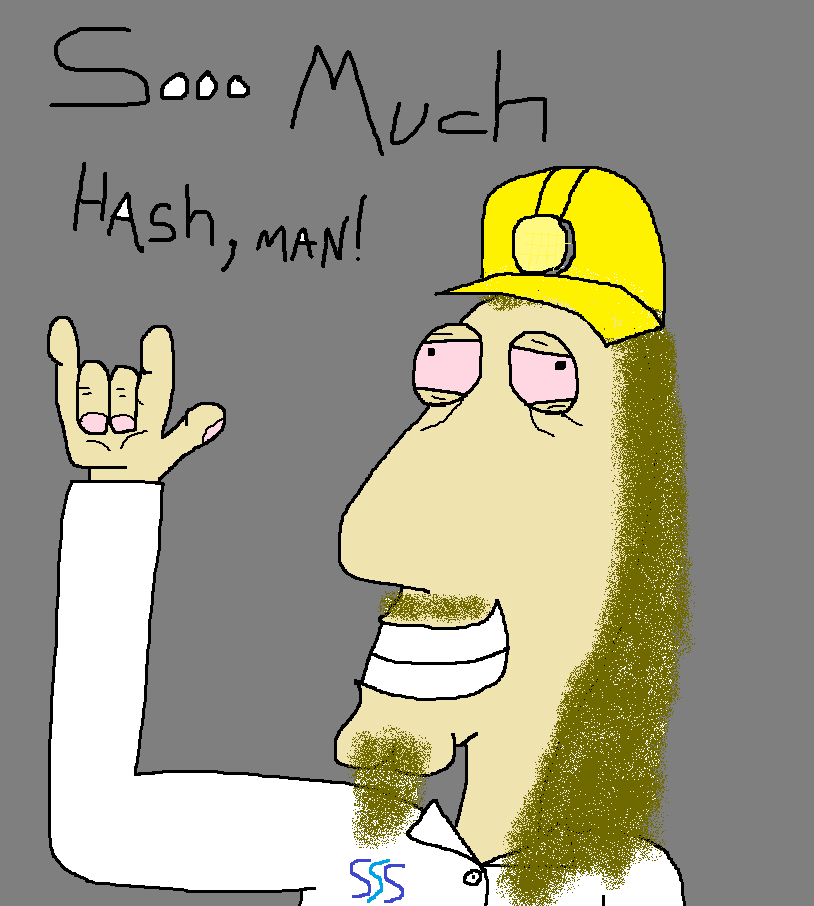 Proud to post that I've finally got my KLYEMINER-1 prototype hashing on 6 out of 6 RX580s after weeks of failure to accomplish just that! While I'm not entirely sure of the power draw of the mining unit I'll tell you this...
Feels Good to Have Such Hash!
No, not the cannabis variety like you all would expect from ole KLYE... But the cryptographic kind! Not going to lie, it was a frustrating bitch and a lot of trial and error to get the Biostar TB-350 BTC motherboard to run the 6 cards I'd purchased to build this mining monster. After ordering the wrong CPU without onboard video it became apparent that in order to get 6/6 cards running that I'd need to "upgrade" to a newer A-series APU.. That sucked but a cheap lesson in the grand scheme of things. Once I'd got the AMD A8 APU installed in place of the Ryzen 3 1300x initially implemented on the rig and spent about a day playing in bios it FINALLY booted up and ran with 6 cards! All glory to the blockchain bruteforce!
Abnormal Amounts of Hash Power?! Yes Please!
Keep in mind that this KLYEMINER-1 prototype is running 6 Sapphire RX 580 cards of varying models and memory sizes. I have a few GPUs that struggle to breach 33MH/s on VTC mining and a few that will run over 40Mh/s if given the electricity to do so. Still very much tuning this machine to get most hash for my electricity.. It's an ongoing process!
However at peak the rig will hit and hold nearly 1 GH/s on the pool I'm mining on which is https://pool.verters.com ... Which is a dinky nearly private VTC pool looking for miners, come join the fun if you'd like! On the console of the KLYEMINER-1 rig I'm clocking 200-220 MH/s however pool side it's anywhere from 350 MH/s to surprising 1.5 GH/s depending on my cards luck and power fed.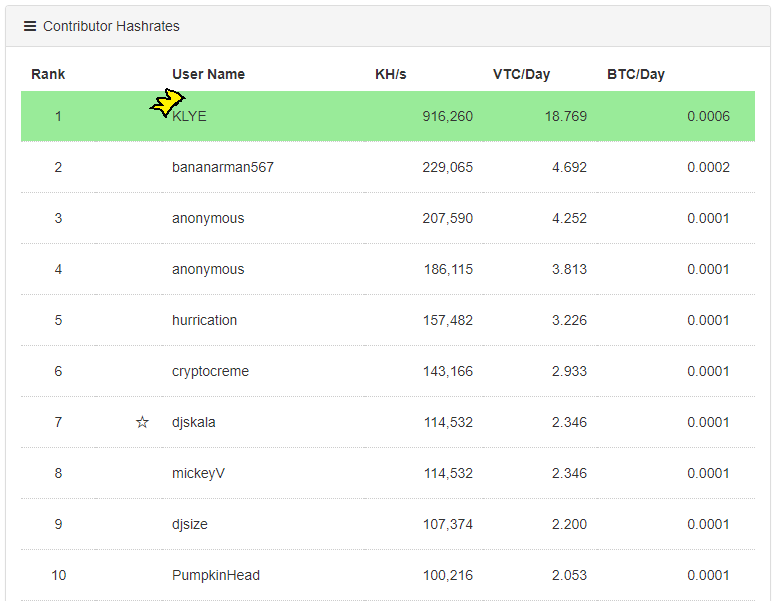 While buggering around with overclocking I managed to get the damn thing to hash at 1.5GH/s ... On 6 cards?! Is this real life?! Picture proof of this witchcraft below of course.
- of course the pool calculates the hashrate shown here by weight of shares submitted over x amount of minutes.. cards must got lucky to have this ridiculous hashrate display..? That is my theory.. Anyone know the exact reason?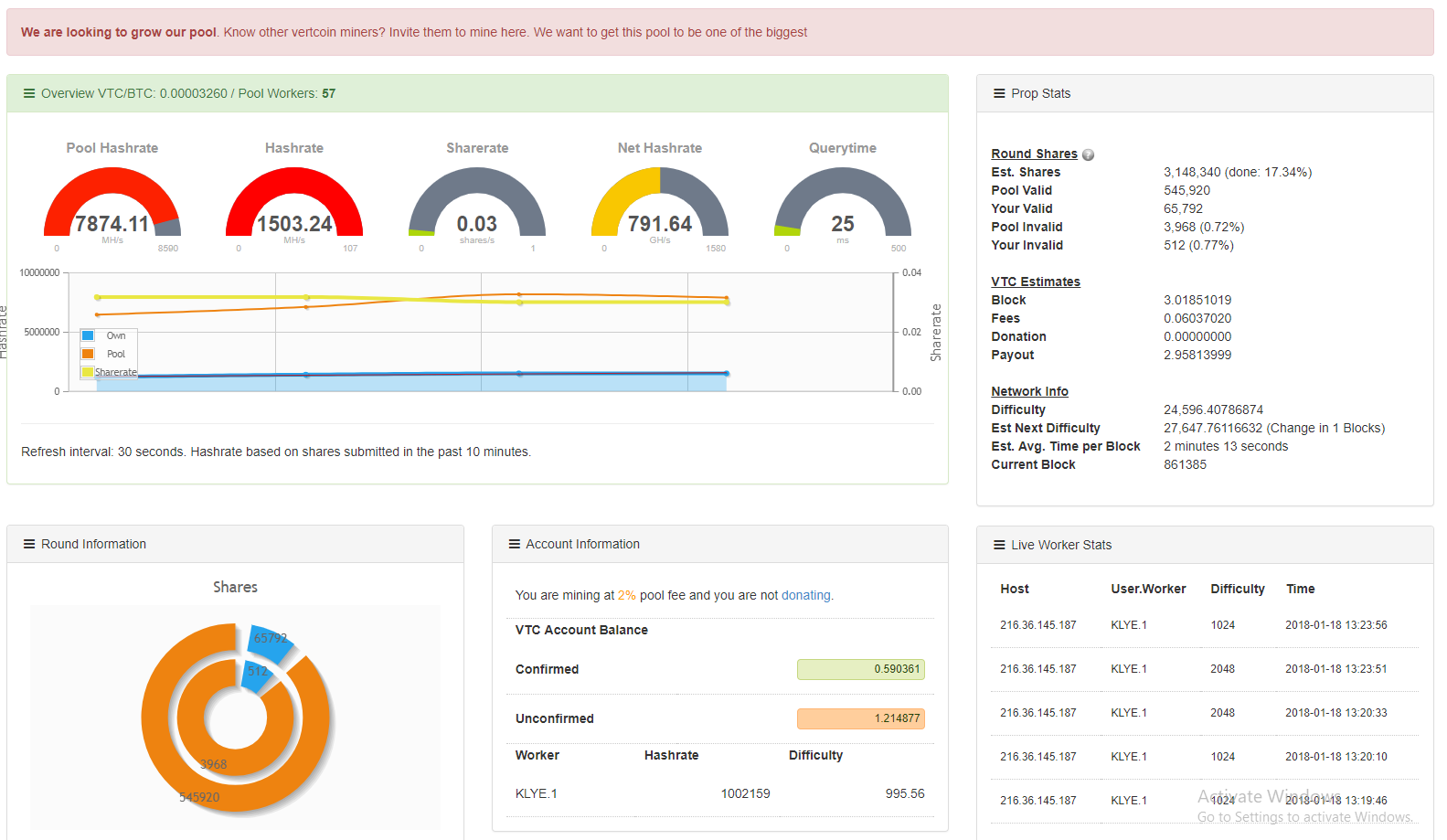 An exclusive look at the the KLYEMINER-1 console... Mmmm look at all that sexy hash!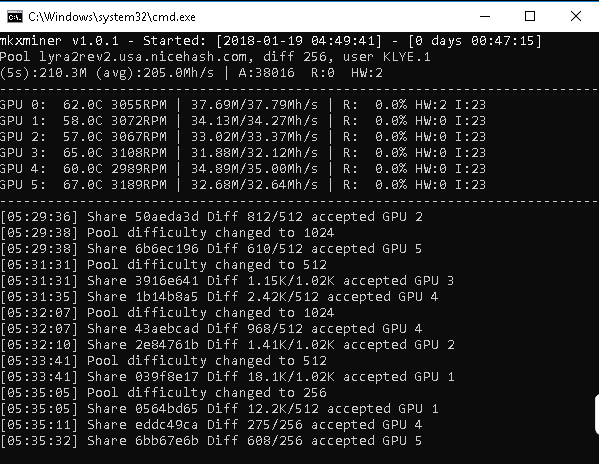 A screencap of some of MSI Afterburner graph output for monitoring!
![](https://steemitimages.com/DQmPCEN8U7GVWF4YB4azn1SZDLs5fxSSLSm6QZYUDR4YwuG/image.png)
Of Course, These Are Peak Hashrates Above...
A More Realistic & Actualized Glimpse Into KLYEMINER-1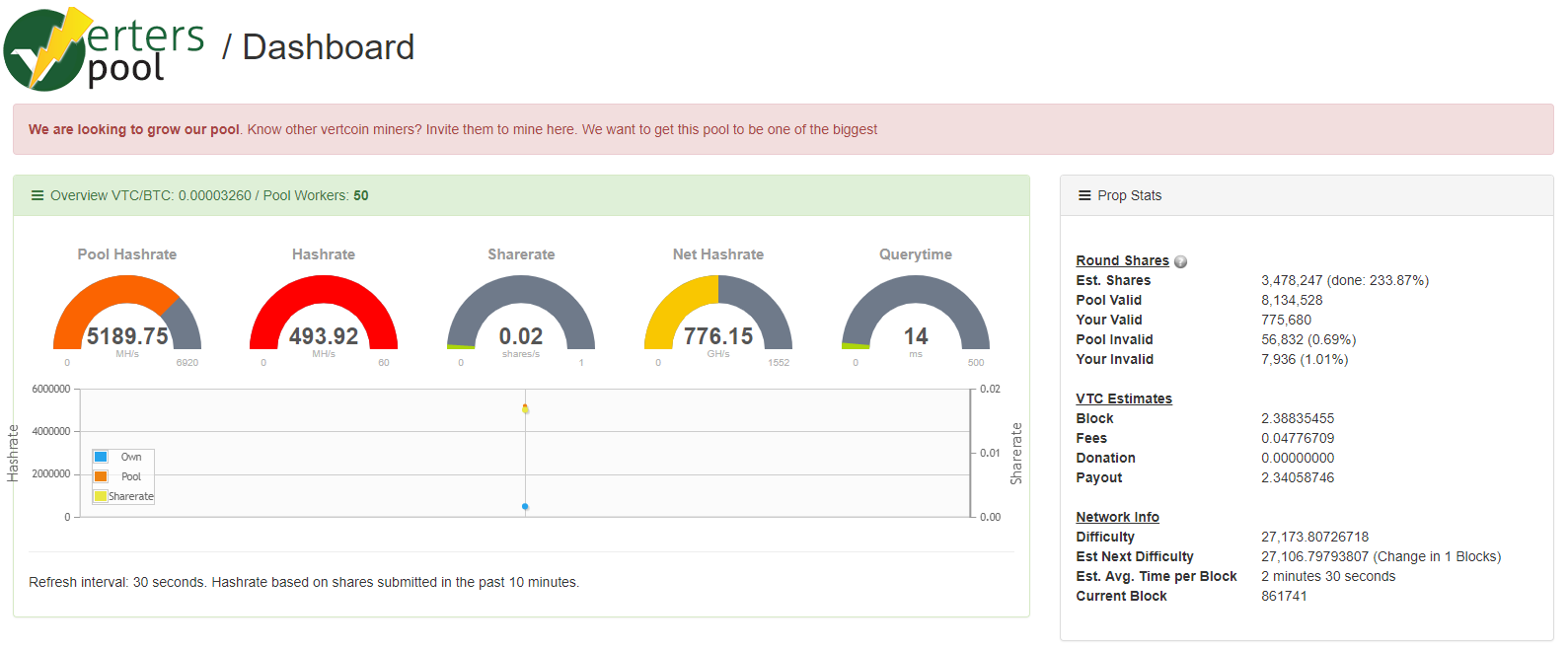 Seems a more stable or regular hashrate hovers between 400MH/s to 600MH/s reported pool side. Seems to be where the rig tends to gravitate towards if it's not overclocked to the 9's and sucking killowatts of power daily.. May invest in a kilowatt meter to get an accurate reading on total juice usage being consumed. There exists a sweet spot where your wattage, hashrate and heat are best for profit and card longevity seems to be the consensus on the internet and advised by my comrade and fellow miner @cryptocreme who filled me in on AMD Vertcoin mining and showed me the mining pool, as well as sparked my interest in building a rig.
KLYEMINER-1 is Success... Next Generation Incoming!
While in theory it's as easy as set it all up and get the right drivers going it's certainly been a learning experience. On the hunt for hardware for my next miner build up! Certainly considering building a 13 GPU beast primarily powered by Nvidia 1080 Ti 11GB cards. Which would also be a KICK ASS machine learning rig potentially as well.. a feild of study I wish to explore in the distant future.

Starting to really dig the new mining hobby, it is certainly a good reason to get away from the glow of my computer screens for a bit and go build something physical. It's certainly a rewarding investment of time as well as money.. and seemingly profitable hobby.|
Thanks for Reading About My New Mining Hobby!
---