Today was a largely uneventful day at the library. There weren't a lot of patrons dropping by, and even the after-school crowd was rather subdued. The only event of note was a visit from a gentleman I will call "the deaf ashtray."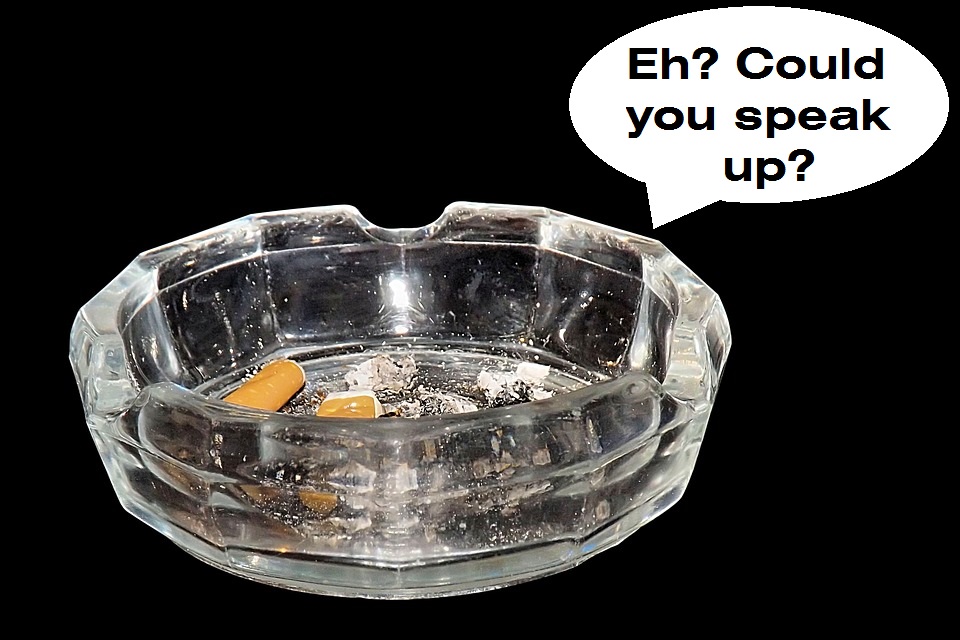 Caption by the author. Original image here.
I think I have mentioned in a previous post that there are some smokers who manage to not reek of stale smoke all the time. This individual is not among them. He is also quite hard-of-hearing, and anything said to him must inevitably be repeated at least twice at incrementally greater volume until he understands. However, this first impression he offers is less than complete.
His demeanor is usually genial. His purpose at the library is usually acquisition of a few books from our "Friends of the Library" book sale corner, and he brings them home to his wife. I have never met her, but judging by the frequency of his visits she must not be very mobile, and is a voracious reader.
His old plaid jacket seems to trap the odor of his cigarettes, and disperses the odor over time. It seems well-maintained though, not tattered and stained. He also wears an old flat cap and simple glasses. His posture is somewhat stooped, but I don't think he was an especially tall man even in his youth. His hair is quite white, and he wears a beard that is generally kept short and neatly trimmed. He has a bit of paunch, but it is more that of a burly build deteriorating due to age than that of someone given to poor diet and sloth.
He is clearly from a generation where smoking was commonplace and unquestioned. At perhaps 70-something, I suppose he is too set in his ways to quit. I wonder what his life has been like. Was a logger in the local timber industry? A construction worker?Did he serve in the Korean war or Vietnam? Was he a ranch hand? Who knows? I would love to converse with him to learn more, but unfortunately it would disturb the quiet of the library too much.
---