I have two sisters. It's easy to shop for one of them, but not so easy for the other. Time to get creative!
Background
Last year, while brainstorming library project ideas, we decided to have a Steampunk Jewelry craft day. Our district programming coordinator ordered some steampunk jewelry findings, and we put out a call for old keys and hardware. All told, it was quite a successful event for our small community.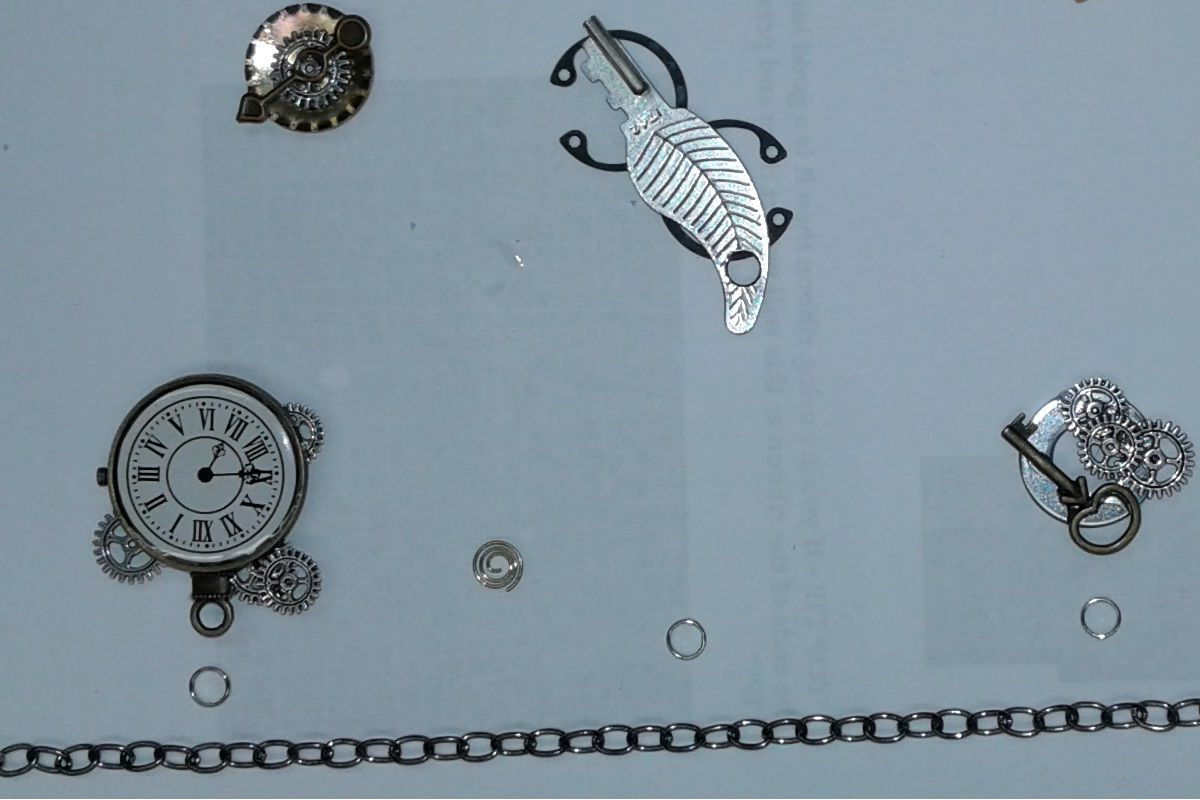 It was at this program that I got the idea to try using steampunk findings as part of my basing scheme for war game miniatures, so I began buying odds and ends.
Of course, I also had to make myself a steampunk lapel pin, too. I super-glued the thin sheet metal cogs in a fairly random order that appealed to my sense of Steampunk, and then added some clock hands. The lapel pin blank was sandwiched between some cogs, taking advantage of their thin nature and the holes stamped in them, so it is not coming apart.
At any rate, over time, I have accumulated quite a lot of bits and bobs from steampunk jewelry grab bags and whatnot, so now that you have some background, on with the main subject: making my sister's Christmas present!
Supplies and Tools
Findings can be found on Amazon, various specialty websites, and at major craft stores like Micheal's, JoAnn Fabrics, or Hobby Lobby. If you have a collection of broken clockwork to fear into, that might be even better, but for this project I needed items that had a steampunk look while already being suited to jewelry. The earring hooks and jump rights were specially purchased for this project.
I had the option to spend ungodly sums on proper jewelry-making jump ring pliers and the like, but I couldn't justify spending that much on tools for what might be a one-off project, and I wasn't near Harbor Freight to look for el-cheapo pliers with smooth faces on the jaws, so I just wrapped some plain-ol' needle-nose pliers with tape so they wouldn't mar the rings.
Using Jump Rings
Jump rings are wire circles with a split so they can be used to connect findings and charms to various jewelry projects. They are available in a variety of sizes, wire gauges, and materials.
DO NOT pull the ends of jump rings apart. You want to maintain the circular shape, so stretching the circle ruins the ring. Instead, if you are using pliers, gently twist the ring to open the gap. Here's a handy video I found online showing how to use the proper tools while properly manipulating the ring.
Making the Earrings
Pre-manufactured jewelry findings usually already have a hole to simplify jump ring connection, so nothing needed to be soldered, filed, drilled, or otherwise altered by me. All I had to do was decide what pieces to connect, and how to connect them. I decided on a simple shape, just using the earring hooks with a single jump ring and two findings—a silver key and a silver feather. I also took care to mirror the order I added the findings so they would be symmetrical. The little things matter, in my opinion. I chose this silvery finish because I suspect it's what my sister would prefer, but your mileage may vary. If you prefer the look of bronze, gunmetal, or other less-shiny materials, there are options aplenty.
And there you have it! All you need are the right supplies, a little know-how, and an idea. If I can do this, anyone can. So if you want to make something special for someone, whether for Christmas, a birthday, Valentine's Day, Mothers Day, or any other special occasion, now you know the basics!
---
All photos by the author
---