More than 75 years ago, in August of 1942 the history was made in Slovenian mountains. Franc Herle and Gustl Vršnik successfully climbed the north face of Mount Ojstrica for the first time.

Franc Herle and Gustl Vršnik
This feat was achieved during the Second World War. It deserves even more admiration because of that. Both climbers were partisan fighters for the liberation. Unfortunately they both fell in combat.
Ojstrica is a 2350 meters high and technically demanding mountain. Its north wall is more than 500 meters high. It is a beautiful mountain in a wonderful corner of Slovenia.
Ojstrica is overlooking wonderful Logarska Valley.


Ojstrica is the most prominent top to the left on the photo above. Source
Tribute To The Climbers
In August 2016, 75 years after Herle and Vrsnik first climbed the north wall, the alpinists from local climbing societies performed a touching tribute. They climbed the wall and lit torches along the route in memory of their fellow climbers from the past. It was a beautiful view.
The cover photo was taken during this event from the Klemenča Jama Mountain Hut.
Visit Logarska And Ojstrica
You are welcome to visit the most beautiful valley on this planet. In my opinion, of course. You can also climb atop Ojstrica. There are easier routes apart from the Herle route, suitable for weekend mountaineers with some experience in the rocks.
Refresh Yourself At the Foot Of Rinka Waterfall
While you are here do visit the source of Savinja river, Rinka waterfall, which is about 100 meters high:


Source: kraji.eu
I Can Be Your Local Guide
These photos were taken by @ervin-lemark in March 2011. It was early spring and the waterfall was almost free of ice which covers it almost completely during the winter.
The waterfall is breathing into the spring: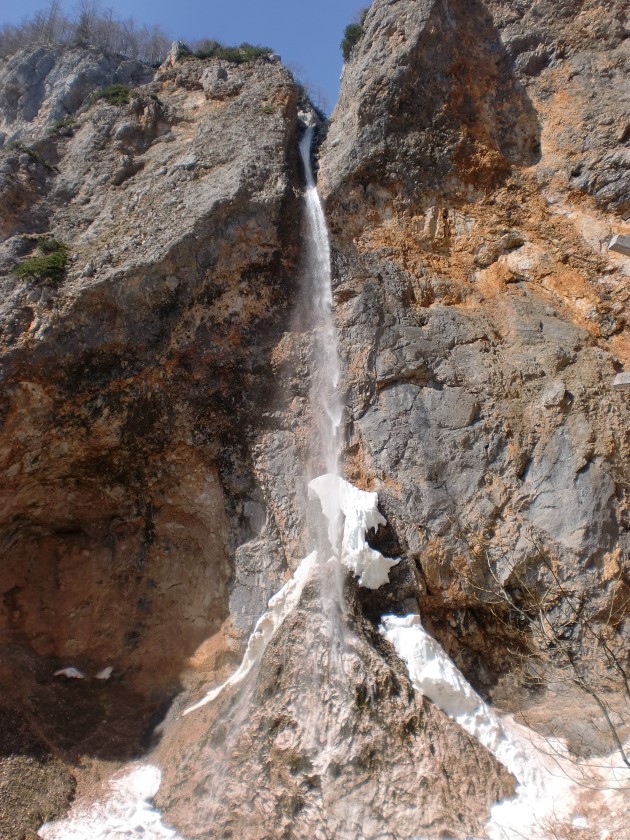 There is a small wooden restaurant perched on the rock to the right of the waterfall. It is called The Eagle's Nest:
Mount Ojstrica as seen from the Rinka waterfall:
Refreshing spray of the ice cold water: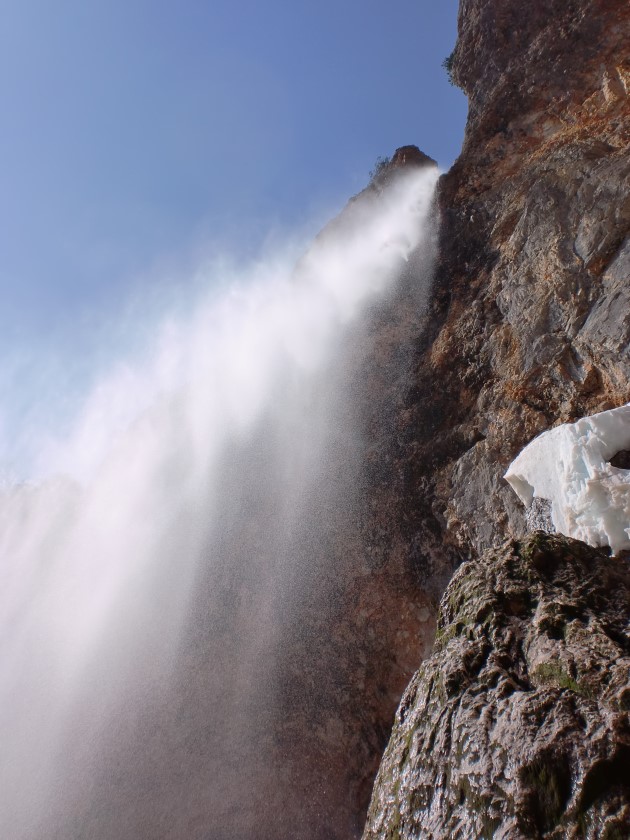 ---
Better and better!
![Orange Swan By Lemark](http://i.imgur.com/WH6q81o.png)