** eSteem Dapp Review **

Img
** What Is eSteem **
eSteem is a mobile social and desktop surfer application that is based on blockchain - powered by Steem. @good-karma was initiated and founded eSteem in August 2016. eSteem is an alternative interface to Steemit. Since 2016 eSteem project has become so larger number of contributors. eSteem surfer Helps You to browse steem interface and do any kind of actions with your steem account without opening your PC's browser! This dapp makes steem too easy and enjoyable.
** Versions **
There Are Three Kind of Versions Of eSteem Dapp:
** eSteem Surfer Features **
Guys I'm reviewing esteem Desktop version. What is eSteem Surfer? eSteem surfer is a Desktop client that is available for Windows, Mac, and Linux with many useful features. In their updated version, they have added some new and also cool features in it. let's start the review of those fantastic features!
List Of User Interface Options
Pin Security
Feed
Profile

Drafts

Gallery
Login As
Log Out
** Details Of Options **
Pin Security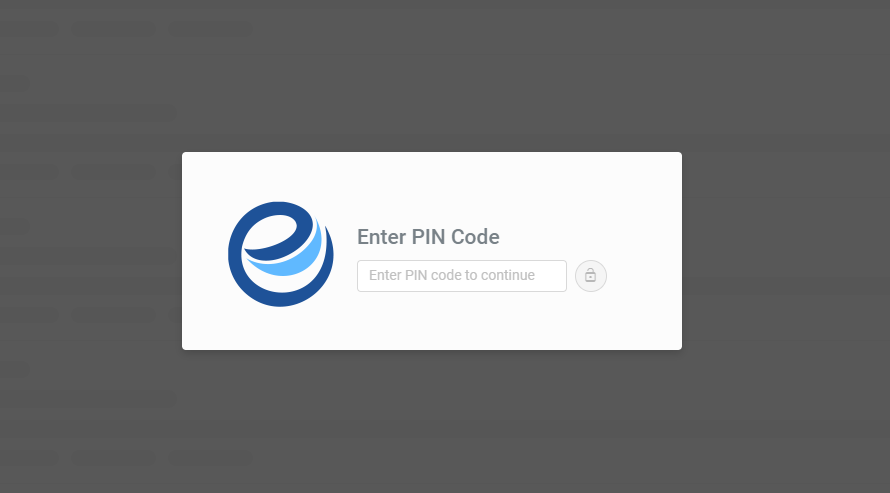 After Installed eSteem on your PC, you have to set a pin code first to the dapp. This will sequre your dteem sccounts from others if you have any children or other peoples at home they can't access your steem account though eSteem without it. So its the most important part of it.
Feed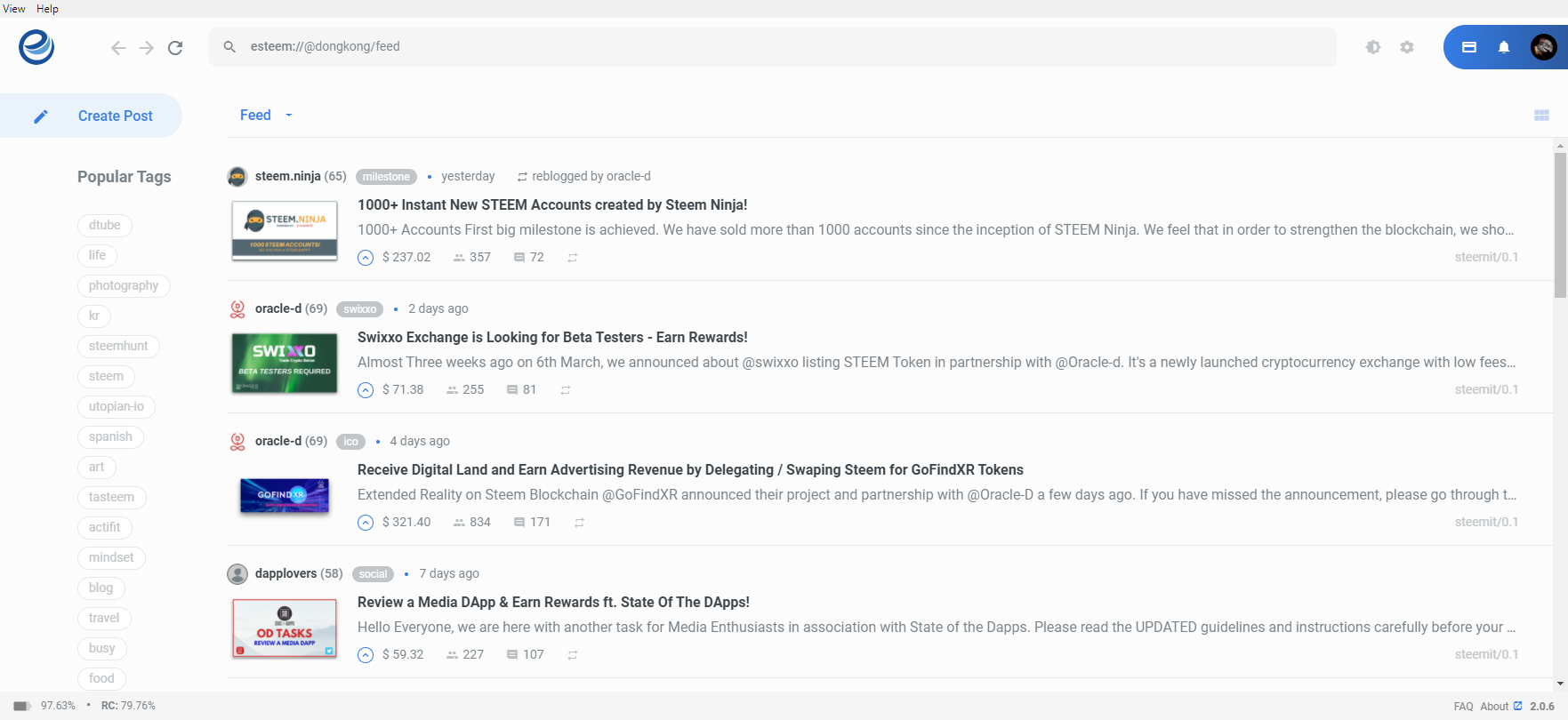 After Setting a pin you are now able to see your steem feed on eSteem if you are logged in. You can also easily select trending, hot, new, promoted and more option from the feed bar. And its too smooth and you can also select tags that type of posts you want to see from its side as you can see.
Profile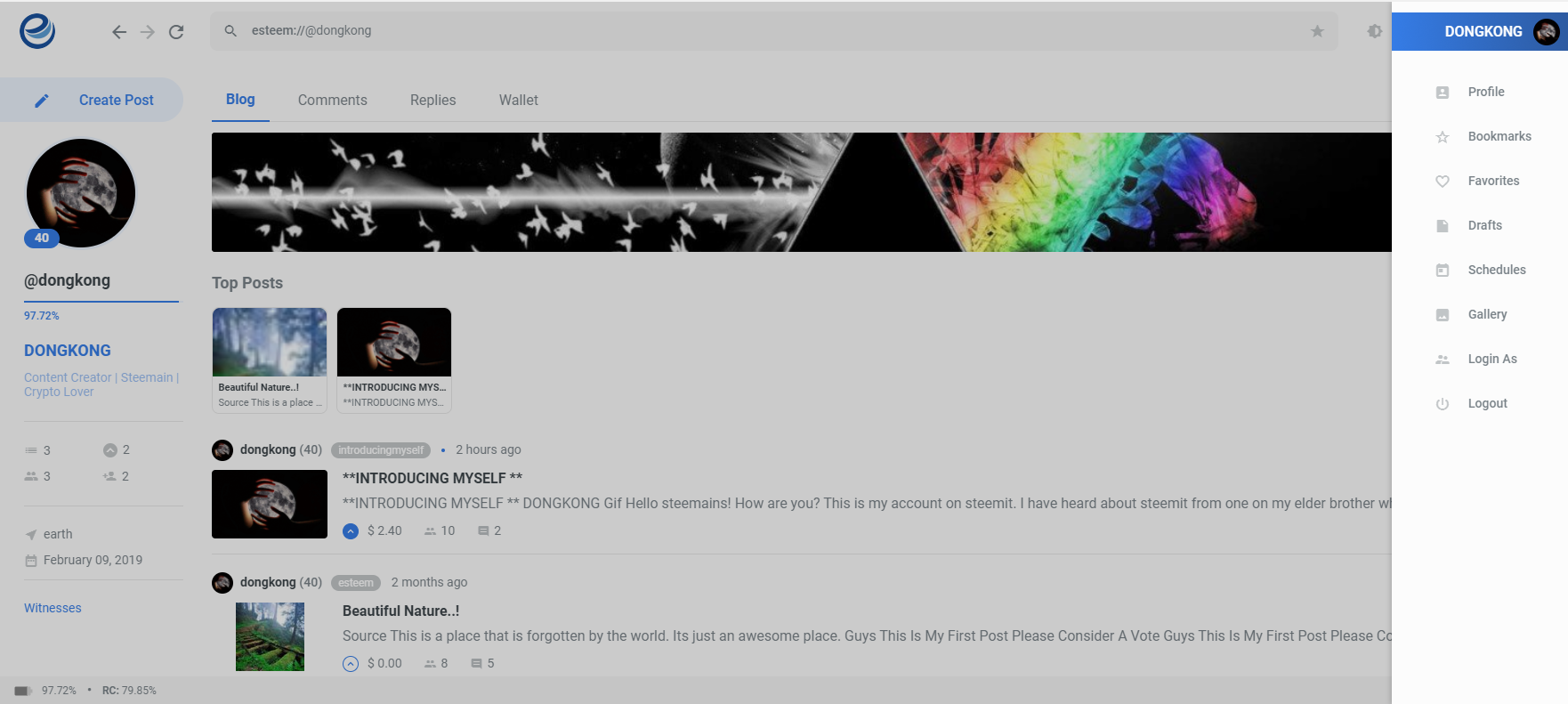 You can also switch to your blog by simply clicking on the profile option from the slide bar. Just take your cursor on your profile picture and click the slide bar will come up and then click on profile and it will take you to your blog.
Bookmarks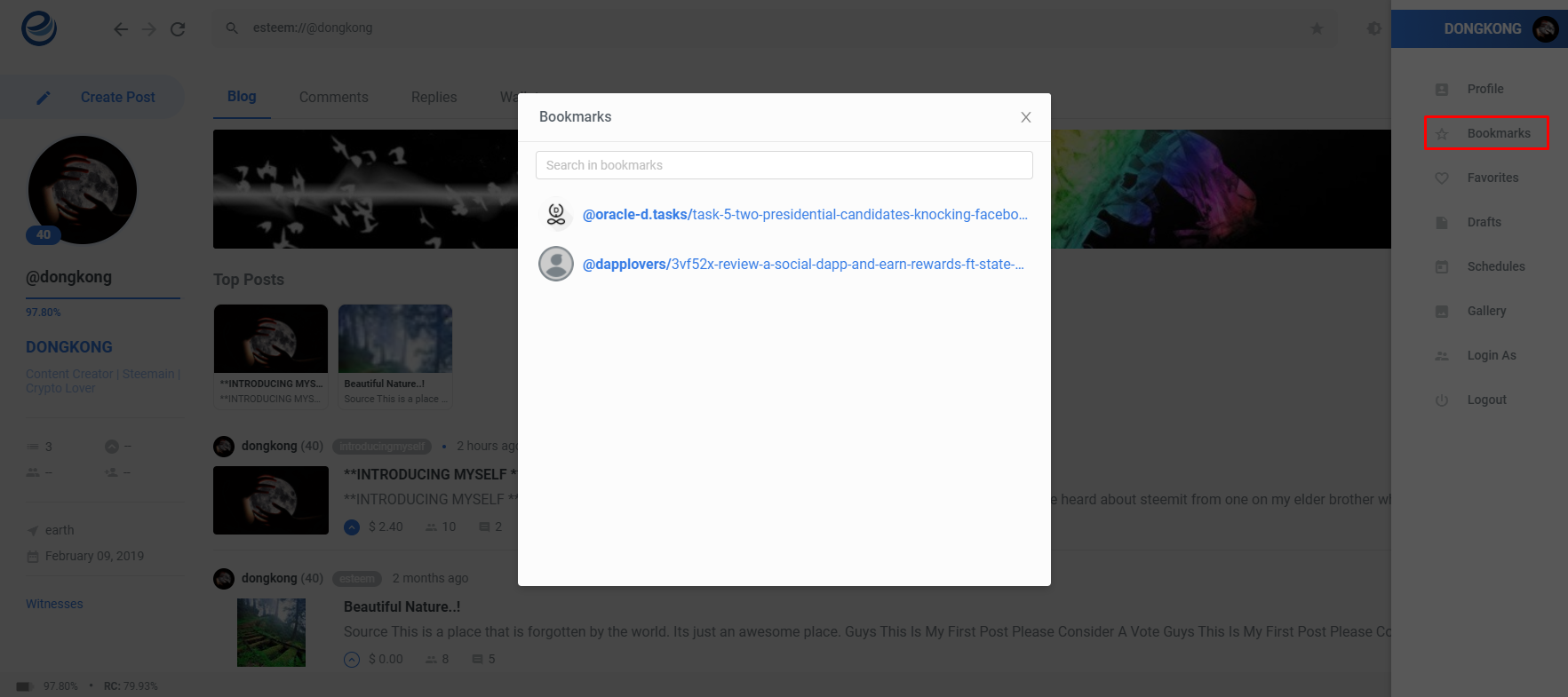 You are now able to bookmark any importent posts and can see them in bookmark optiopn. as you can see i have bookmarked two posts from @oracle-d and @dapplovers !
Favorites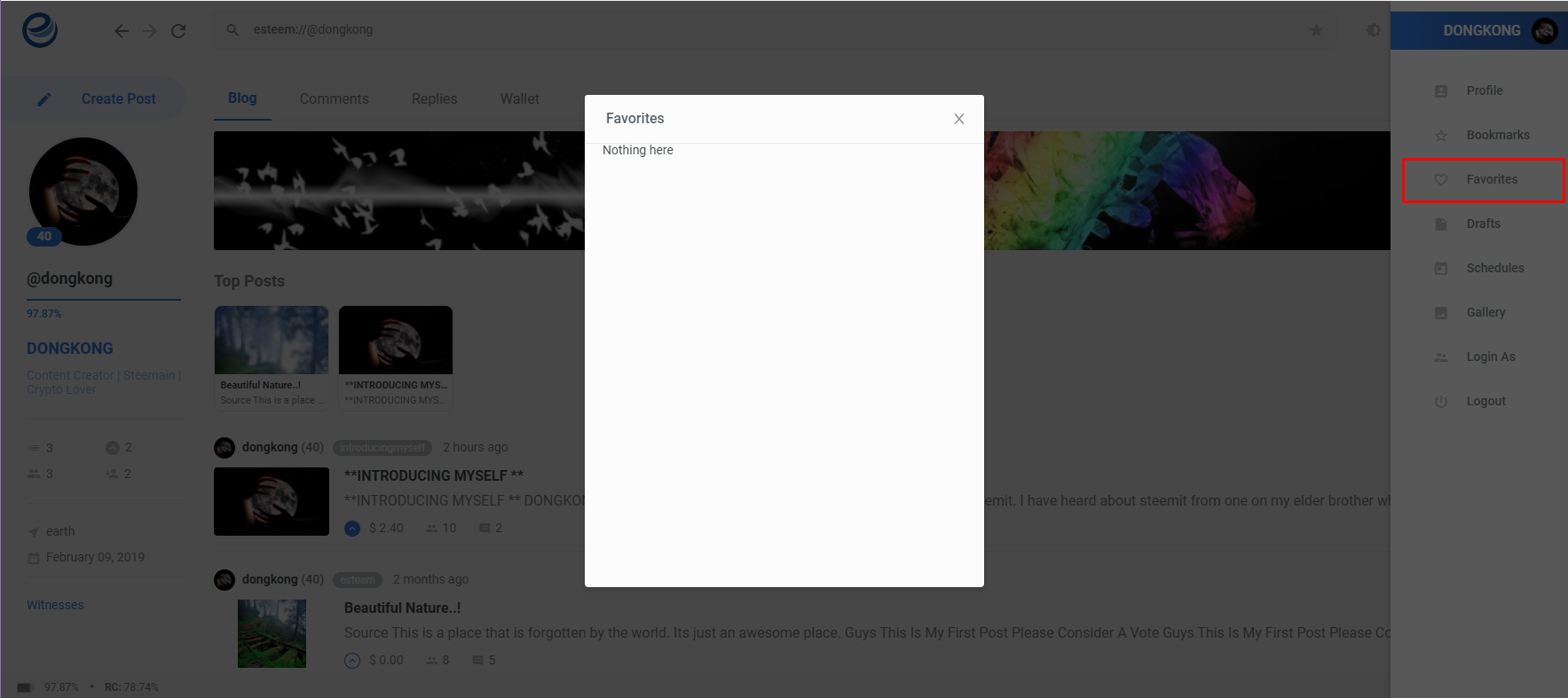 Add to your favorite list your most liked posts. and you can see them anytime them when you want using this favorite option!
Drafts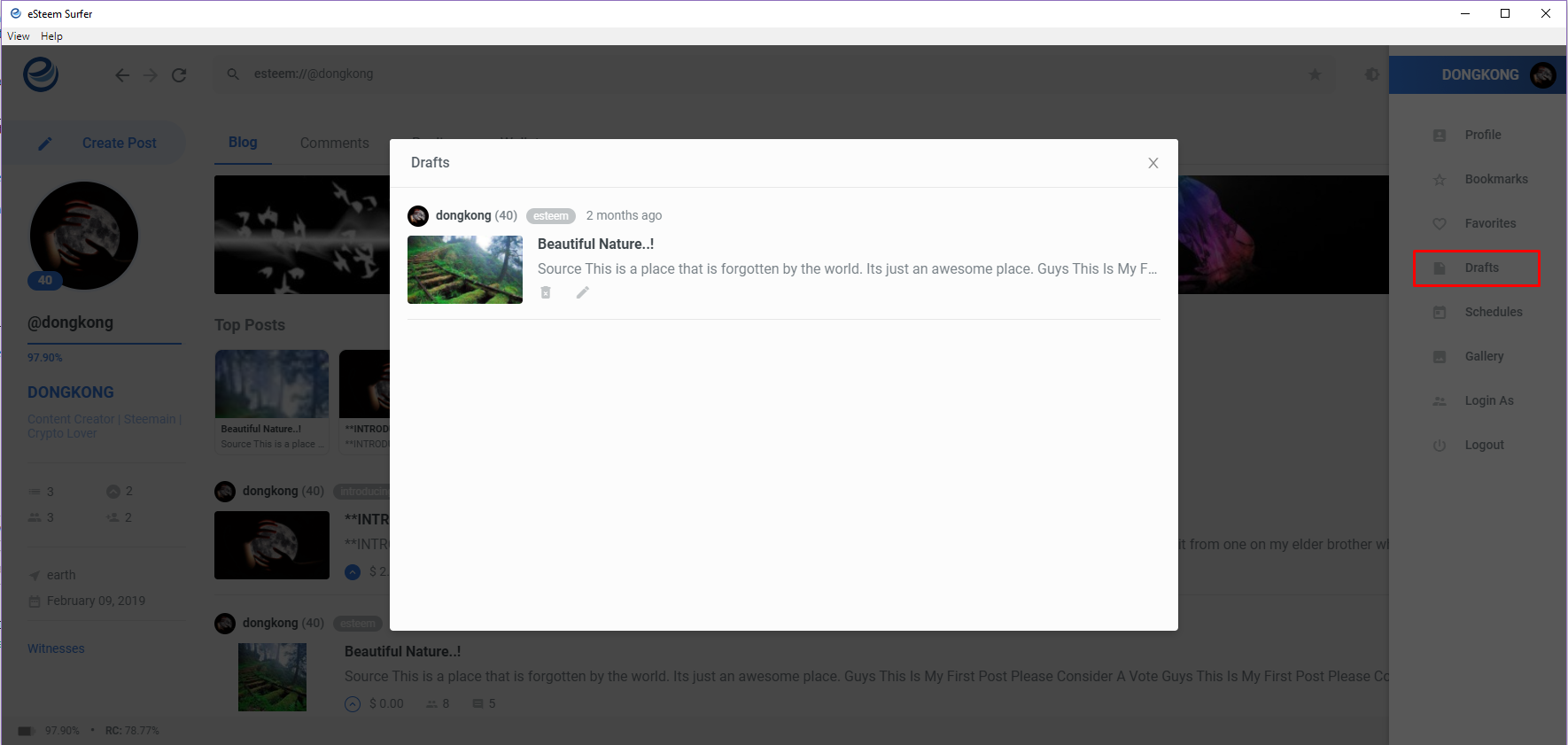 Here you Can See Your Draft Posts Here That You Are Writing but unfortunately closed the app.
Schedules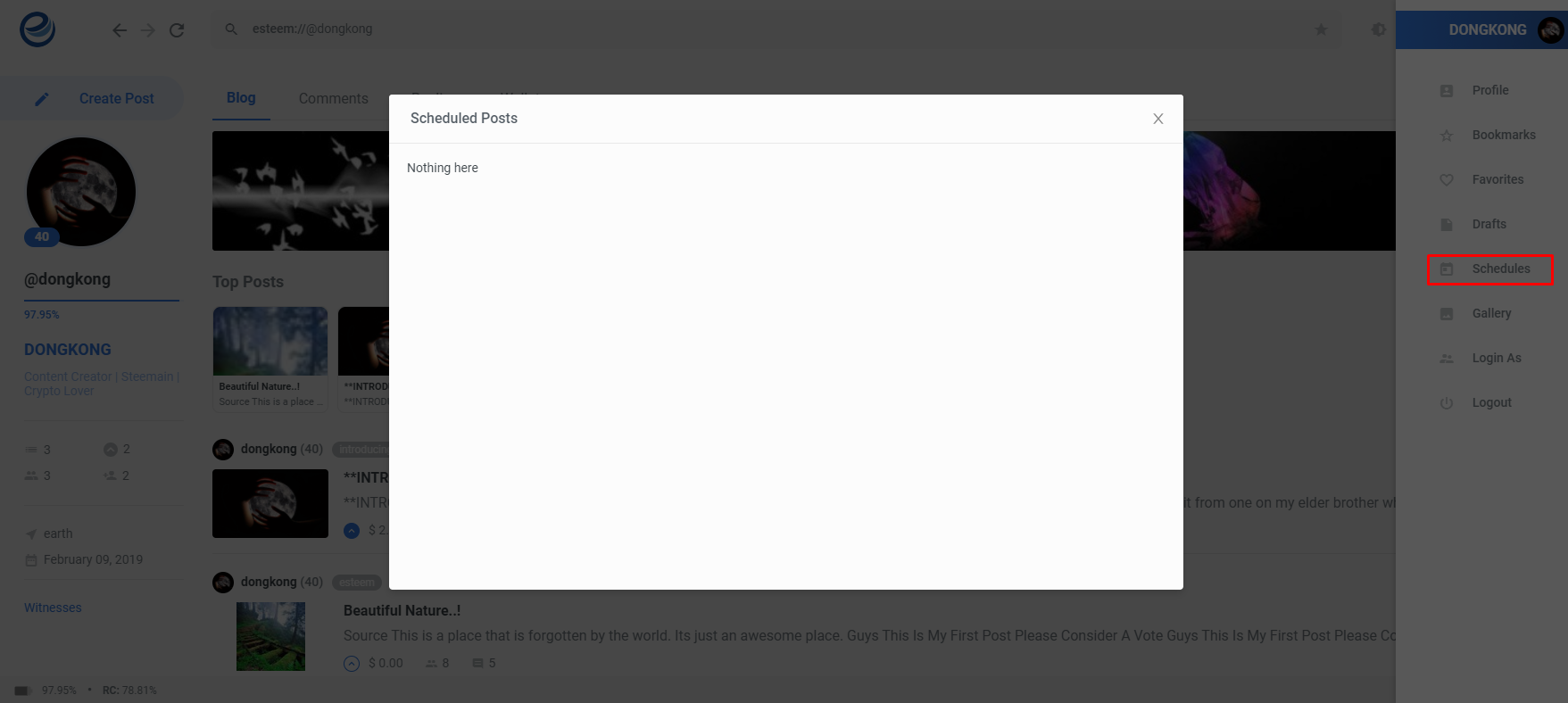 Here you Can See Your Schedules Posts Here that you have set to post another day. It will automatically post your Schedules posts on that specific date that you have given!
Gallery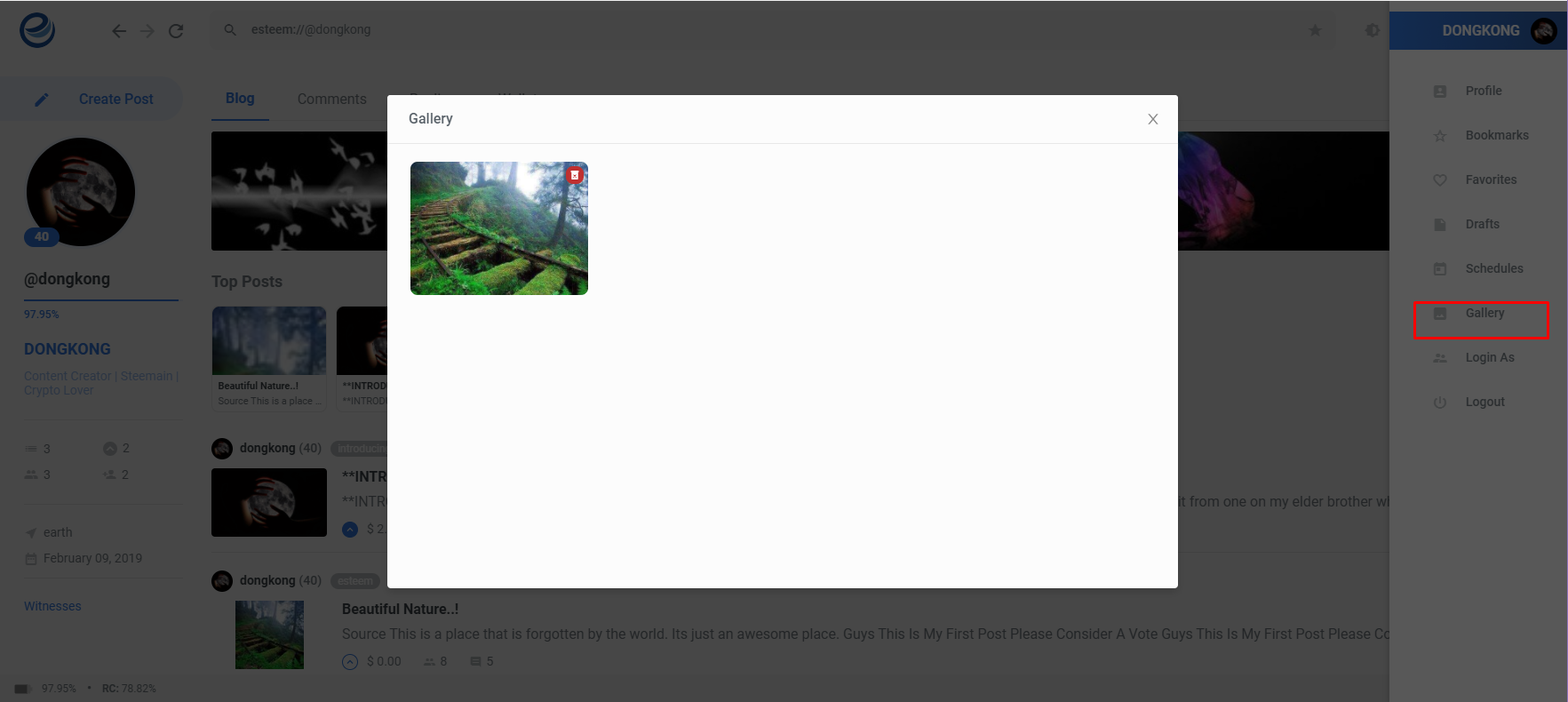 In this option, you can see all of your uploaded pictures that you have uploaded from your blog. its too helpful for searching any image from your blog posts. it saves our time.
Login As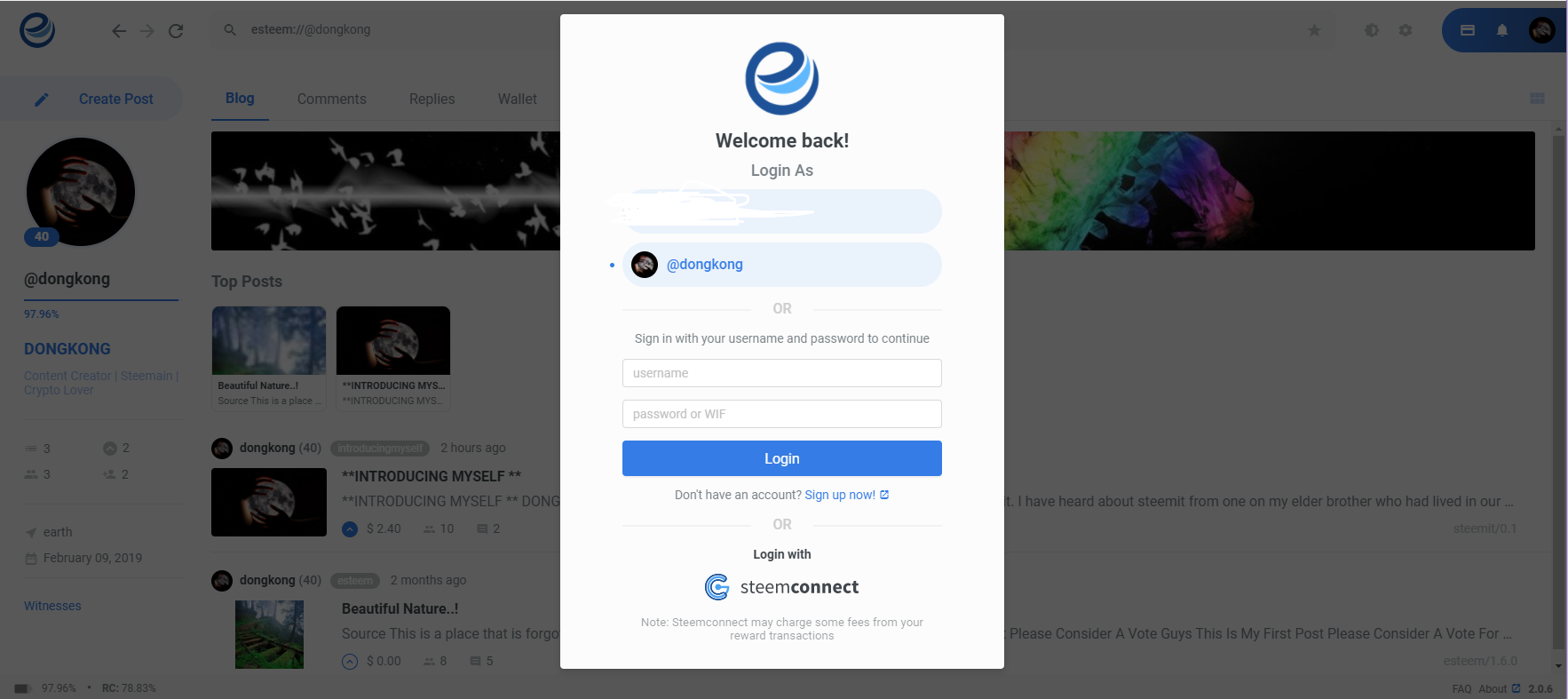 Here you can add multiple accounts so while you are browsing an account and you don't know which account you can simply click on this option and can see you logged in the account from here.
Log Out
If You Wants to Leave Just click on log out and close the application. And done!
** Conclusion And My Rating **
---

eSteem is a blockchain based mobile social application - powered by Steem. It was initiated and founded by @good-karma in August 2016 as an alternative interface to Steemit. Since then project has grown to much larger list of contributors.
Its an awesome app in my opinion and helps a lot of steemains though their upvotes and dapps. I have reviwed this dapp for @dapplovers dapp reviewing contest by @oracle-d! eSteem is 10th ranked steem dapp on @Stateofthedapps their Website.
My Rating For eSteem Dapp :
I'm Giving a
to eSteem .
Img
Because I loved this dapp so much its easy to use and have a lovely interface smooth and awesome !
Specially Thanks to @oracle-d and @dapplovers and their project members for arranging these media dapp reviews!
** Thank You **
Follow | Resteem | Upvote|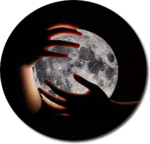 @DongKong