Every single day, you consume Internet content by reading articles, watching videos (loaded with tons of irritating and silly ads), listening to music online, and doing other activities like sharing, liking, commenting, arguing… Spending colossal time and efforts, everything that you receive is mere information (content), while giant centralized content distribution platforms like YouTube or Facebook make money on you – pretty good money, we must say. It is unfair. But MEDIA Protocol will remedy this inequity by providing a foundation for new, compensation-based relationships between content creators (publishers, promoters, influencers) and content consumers – common people like you and me. In other words, the platform will pay you for any interaction with web content – a feature, which legacy centralized content distribution networks lack, but desperately need.
What is MEDIA Protocol?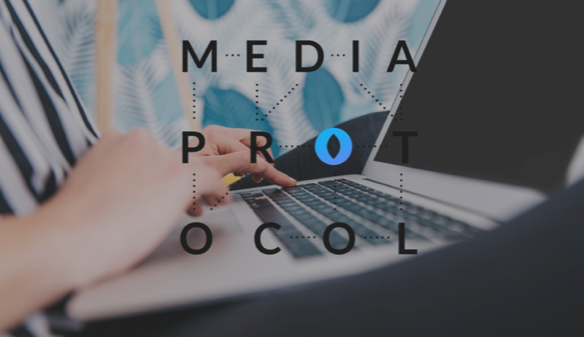 MEDIA Protocol is an open protocol, introducing an economic layer between the two major parts of the content distribution industry: those who create content and those who consume it. The protocol allows content professionals (makers, providers, advertisers) to incentivize the consumption of content and enables ordinary people (audiences) to be rewarded for the slightest interaction with a piece of content such as reception, perception, and distribution. With that said, consumers will have a more enjoyable and, more importantly, well-paid online content experience – at last.
Once content creators/publishers/promoters are registered with the MEDIA Protocol platform, they get an opportunity to turn content URLs into Smart URLs, loaded with tokens like a virtual wallet. When users consume this content (by reading, watching, liking, sharing or commenting), a certain amount of MEDIA tokens (MPT) go directly to a user's MEDIA Protocol wallet address. This will be done through smart contracts. Collected tokens can be spent in different ways including:
Paying for services offered by the MEDIA Protocol ecosystem (such as access to paywalled content, specialist advice, etc.);
Exchanging tokens for other cryptocurrencies or fiat;
Tipping content providers for doing a good job.
The functionality of MEDIA Protocol will be ensured by its ecosystem:
The Core smart contract will nurture the incentive-based relationships between content actors and support the flow of tokens within and beyond the network.
The decentralized mobile application CryptoCatnip – the first dapp to integrate MEDIA Protocol and show its potential. You can try it right now and earn your MEDIA tokens.
Publisher tools will enable non-technical staff to turn their URLs into token-dispensing smart URLs and put them on the blockchain.
Analytics tools will provide content actors with real-time analytics from the blockchain.
Documentation and SDK will help dapp developers to integrate MEDIA Protocol into their software solutions.
Who and How can Use MEDIA Protocol?
There will be, at least, three categories of users in the MEDIA Protocol network: consumers, content authors, and advertisers, and each of them will be able to reap their own benefits from the platform.
Consumers:
Can earn MEDIA Protocol native tokens for interacting with the content;
Will accumulate tokens on personal MEDIA Protocol wallets and exchange them for paid consultations, services or subscriptions, as well as redeem these coins for fiat money.
Content authors:
Will be compensated by brands for promoting this or that product;
Can receive their percentage from content consumption depending on its popularity – the more it is consumed – the higher the percentage is.
Advertisers:
Can directly cooperate with content authors without any middlemen;
Have a cheaper advertising platform.






ICO Details
I cannot understand why such a beautiful, long-awaited project like MEDIA Protocol withholds information about their ICO. Talking to their representative via Telegram brought no results. They just made a formal reply that "details for public sale have not yet been finalized". Neither their website nor white & business papers provide clear information on the ICO periods, fundraising goals, token allocations, prices etc. The only thing I could fish out is that their community pre-sale is going on, and they will contact via email with those who qualify for an allocation. You can try your luck and know something more about their mysterious ICO by filling their community pre-sale application form here.
Final Thoughts
MEDIA Protocol is essentially a blockchain content sharing system enabling common people to earn and spend virtual currency simply by consuming various types of content. The idea behind the project is absolutely stunning: to compensate audiences for interacting with the content and foster economic, reward-based relationships between content creators and consumers. Still, the lack of information on their public sale and a necessity to complete an application form to know a little more about how they are going to raise money for their initiative is somewhat suspicious. We highly recommend doing your own research before taking an investment decision.
MEDIA Protocol additional links
Website | Whitepaper | Blog | Twitter | Facebook | Telegram | Bounty | ANN
Authored by: Will.Smith (@iwgeiw)
ETH address: 0x2756ccfe1f1ec0a7a7be8f8e2593165eb2b33fc3
UNIQUENESS 100%